Welcome to Brooklyn Law School
Welcome to Brooklyn Law School! If you visit our campus, or just spend a little time looking around our website, you are sure to discover any number of things that make Brooklyn Law special. For now, allow me to highlight just three of our distinctive features.

First is our prime location in Brooklyn. We are the only law school in a borough that, if independent, would be the fourth-largest city in the United States. More important, Brooklyn is driving the cultural conversation and leading the way in the innovation economy. As a recent report from the Center for an Urban Future noted, "Of all major tech hubs in the nation, Brooklyn's start-up growth rate since 2008 was second only to San Francisco" and ahead of Manhattan. And Brooklyn Law is quite literally in the middle of it all: mere blocks from the business incubators of DUMBO and Downtown Brooklyn; steps from state and federal courthouses, prosecutor's offices, government agencies of every variety, and legal services organizations; and a quick subway ride to Wall Street. Moreover, our students' access to these opportunities is not just a matter of geographic proximity, but longstanding and concrete partnerships through our clinics and our externship program.

Second, our wide-ranging scope, educationally and in the reach of our professional connections, gives students abundant options to make the most of their legal education. Brooklyn Law is one of the largest law schools in the United States and thus offers a curriculum with unusual breadth and depth as well as a strong network of 24,000 alumni that gives access to an extensive array of mentors and career opportunities. Some law schools prepare students to be any kind of lawyer in general, but no kind in particular, or perhaps specialize in one or two areas. Brooklyn Law provides concrete and comprehensive training in many distinct practice areas, as well as the fundamental skills you will need to succeed in any career. Our graduates thrive in both the private sector and public service—often within a single career. Our three business-related centers—the Block Center for International Business Law, the Center for the Study of Business Law & Regulation, and the Center for Urban Business Entrepreneurship (CUBE)—collectively prepare business lawyers to understand the needs of entities of all sizes, from startup to multinational, at all phases of the life cycle, and for all three of the critical contemporary concerns they will confront in practice: globalization, regulation, and innovation. Our promotion of public interest work embraces curricular and extracurricular programming, as well as direct financial and career support, through such varied centers and programs as our Center for Criminal Justice, our Public Service Law Center, and the Sparer Public Interest Law Fellowship program.
Third, our collegial community puts students front and center. Like the city around us, Brooklyn Law is diverse and inclusive; we celebrate and learn from our differences, building deeper solidarity from our variety. Further, being independent, we offer the educational benefits of a big school without the remoteness or bureaucracy of a big institution. If you have a question—whether educational, administrative, career-related, or personal—you will be able to find the person who can answer it. You will know (and like and respect) your teachers and your classmates, and you will feel, and become, part of a close-knit (though far-reaching) professional family.

I invite you to learn more about Brooklyn Law School. I'm sure you'll be pleased and impressed with what you discover here.
Michael T. Cahill
President, Joseph Crea Dean, and Professor of Law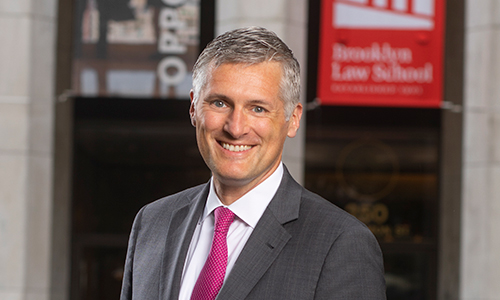 About Our Dean
Michael T. Cahill became President and Dean of Brooklyn Law School on July 1, 2019, returning from Rutgers Law School, where he had been Co-Dean and Professor of Law. Before departing in 2016 to assume the Rutgers deanship, he was a member of the Brooklyn Law faculty for 13 years. He also served Brooklyn Law School as Associate Dean for Academic Affairs (from 2010 to 2013) and as Vice Dean (from 2013 to 2015).