Hone your legal skills in negotiation, mediation, and arbitration
The Alternative Dispute Resolution Honor Society ("ADRHS") is Brooklyn Law School's distinguished accredited honors organization that prepares students for success in the newest trend in the legal profession. Students participate in alternative dispute resolution competitions across the country in various areas of the law, such as the intellectual property negotiation, international mediation, baseball arbitration, and the securities law triathlon.
Students hone their legal skills in preparation for competitions in three distinct areas of alternative dispute resolution: negotiation, mediation, and arbitration. Preparation for competitions through written briefs and contracts, and simulations allows students to gain experience in a unique skill set that allows them to become a better advocate for their client and a more creative problem solver.
These particular legal skills are essential to becoming a successful attorney and universally applicable to all practices of the law. Students may earn academic credit for participating in competitions and for coaching other competitors.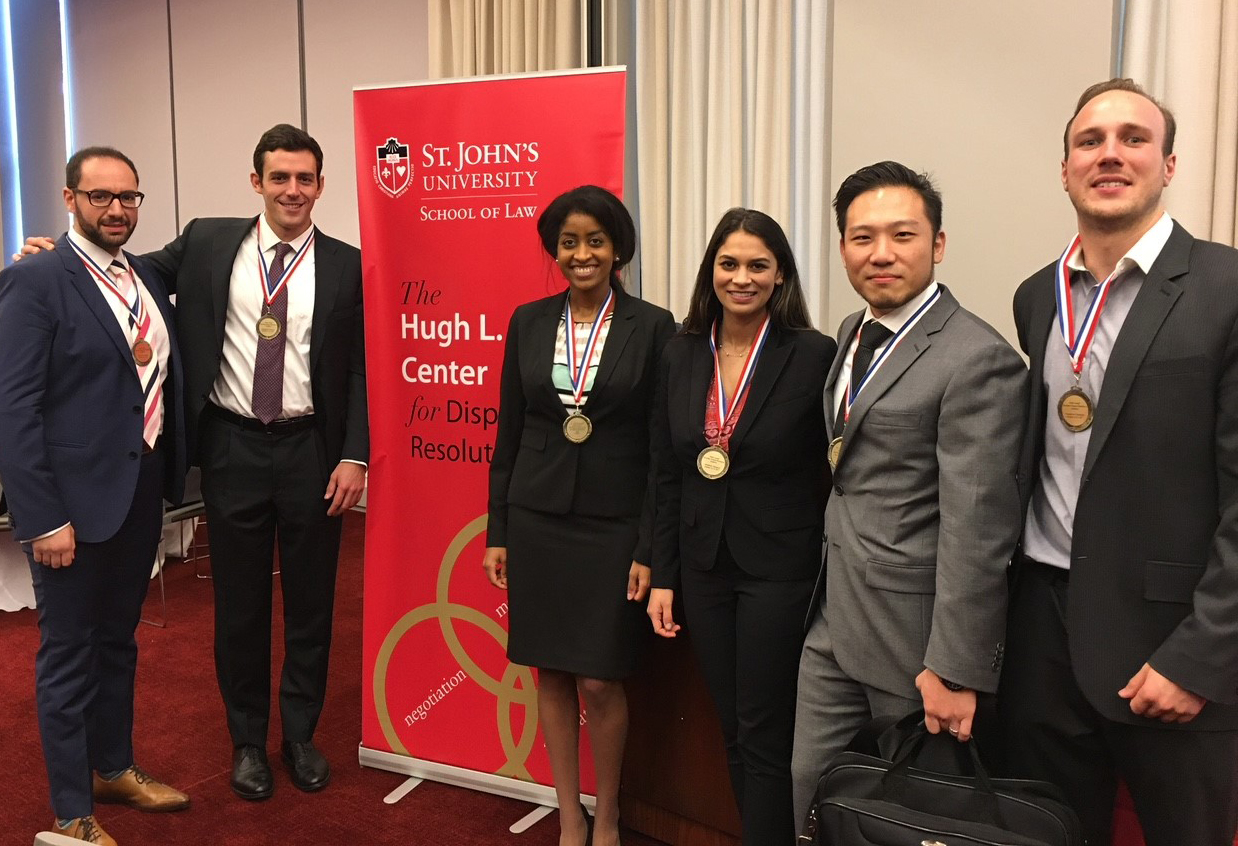 2019-2020 Executive Board
President
Danielle Robinson
Vice President, Administrative Affairs
Joshua Sycoff
Vice President, Competitive Affairs
Taylor Bleistein
Business Affairs Coordinator
Marco Donatelli
Competition Coordinator
Elizabeth Steinborn
Tryout Coordinators
Joshua Benaroya
Melissa Ronan
Secretary
Mark Bhuptani
1L Outreach Coordinator
Rob Butlien
Alumni Chair
Jacob Prischak
2019-2020 ADRHS Members
Returning Members
David Baloche
Joshua Benaroya
Taylor Bleistein
Mitchell Bower
Nicholas Carra
Emily Dean
Marco Donatelli
Maximilian Ferlesch
Emilia Foto
Justin Heller
Dylan Ilario
Jacob Prischak
Robert Price
Danielle Robinson
Montene Speight
David Stringer
Joshua Sycoff
Katherine Wilcox
New Members
Christine Amonica
Alexa Bennett
Mark Bhuptani
Ryan Blum
Lance Bond
Ama Bonsu
Rob Butlien
Jonathan Callaway
Hyanna Cardoso
Jill Davis
Tal Edri
Drew Fryhoff
Nicholas Fuchs
Diego Gomez
Kerry Jensen
Jordan Johnson
Patrick Kelly
Zachary Kotin
Susan Kritzmacher
Marcelle Little Dawes
Sarah Meyers
Melissa Ronan
Matthew Ryan
Nicholas Sarnelli
Eliza Simons
Elizabeth Steinborn
Noelle Stone
Katherine Teng
Henry Thomson-Smith
Ryan Vassar
2019-2020 Award-Winning Teams
New York Law School Intellectual Property Law Negotiation Competition
First Place
Ryan Blum and Matthew Ryan
Coach: Mitchell Bower

Third Place
Diego Gomez and Sarah Meyers
Coach: Katherine Wilcox
ABA Arbitration Regional Competition
First Place
Lance Bond, Jill Davis, Melissa Ronan and Eliza Simons
Coaches: Nick Carra, Montene Speight and Joshua Sycoff
(will be moving on to the ABA Arbitration National Competition in January 2020)
2019 Judith S. Kaye Arbitration Competition
"Best Opening" and "Best Direct" Awards
Katherine Teng, Patrick Kelly, Susan Kritzmacher
Coaches: Taylor Bleistein, Danielle Robinson and Emilia Foto
Honor Society Tryouts
The Alternative Dispute Resolution Honor Society Tryouts take place in the spring semester during February or March. This highly competitive mock negotiation will determine who will be invited to join the society for the following competition year.
The tryout competition is comprised of two separate rounds of multi-party negotiations that will be judged by current ADRHS members. Participants will be sent a general fact pattern and respective private facts depending on the party that they will be assigned to represent. Participants will be told certain concessions their clients have authorized and certain demands they need to meet on behalf of their client. Performance will be scored on a rubric that considers factors such as professionalism and ethics, comprehension of client's goals, and ability to work alongside other negotiating parties. Participants will be e-mailed the rubric prior to their tryout.
The number of students admitted to join ADRHS vary based on the society's competition needs for the following year. Typically, ADRHS offers memberships to those who score in the top 15% of all participants.
Contact ADHRS for more info: adrhs@brooklaw.edu
Transfer Students
Transfer students may be eligible for membership in ADRHS in the competition year for which they matriculate at Brooklyn Law School. Transfer students who are interested in becoming members may inquire to ADRHS at adrhs@brooklaw.edu.