Campus Maps
Brooklyn Law School offers the ultimate urban campus, uniquely situated in New York City, at the intersection of Brooklyn Heights' beautiful historic district, the Brooklyn Civic Center, and downtown Brooklyn. The campus is at the heart of a distinctive legal, cultural, social, and visually stunning neighborhood that draws visitors from around the world to its cool communities and tree-lined streets.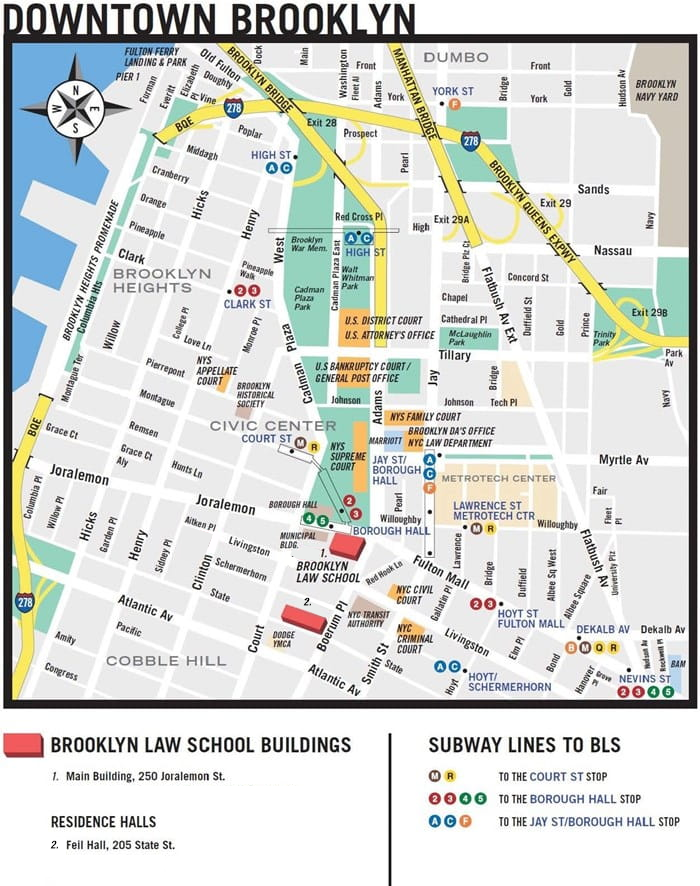 Local Transit
Traveling around the five boroughs of New York is best done by subway, bus, train, or taxi, and is fairly straightforward once you get your bearings. Brooklyn Law School is served by the Borough Hall transportation hub (also known as Court Street) that is adjacent to our main building and can connect you to almost any point within New York City. The station is served by the 2, 3, 4, 5 and R subway lines. The A, C, and F subway can also be accessed from stations close to the main campus.
Visit the MTA homepage to plan your trip or to learn more about subway, bus, and train fares:
Air & Train Travel
New York's two main train hubs, Grand Central Station and Penn Station, serve the Amtrak National Railroad, New Jersey Transit, the Long Island Rail Road, and the New England and Hudson Valley lines from the Metro-North Railroad, as well as offer connections to the city's main airports: JFK International, La Guardia, and Newark International. An expansive subway and bus system, including the Port Authority bus terminal, connects you to all points in the tri-state area and beyond.
Directions
Below you will find detailed directions to Brooklyn Law School's Main Building (250 Joralemon Street) by car, subway, bus, and railroad:
Parking
While there are parking garages in the neighborhood close to Brooklyn Law School, most students find them unnecessary as they walk to school or commute by subway, bus, or train. However, parking can be found on an hourly, daily, or monthly basis.