Brooklyn Law School Celebrates a Legacy of African American Achievement
Since the Law School's founding in 1901, African American graduates have been trailblazers and leaders in the law and in a remarkable range of fields. As the nation celebrates Black History Month, meet some of our accomplished alumni whose careers continue to have a powerful impact and influence on the law and society in New York City and beyond.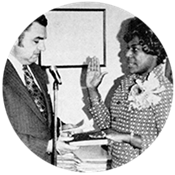 Florence Lucas '39
Legal Pioneer

Florence Lucas was one of the few African-American women to attend Brooklyn Law School in the late 1930s. A life-long New Yorker, Lucas established a solo practice in Queens early in her career, specializing in real estate, landlord/tenant and civil rights. She also was an attorney in the federal government's Office of Price Administration for two years during World War II.
Lucas was the first African-American woman admitted to the Queens County Women's Bar Association. However, she found it difficult to participate in the bar's business since its meetings were generally conducted at restaurants that barred black people. Undeterred by such obstacles, she ran for the City Council in 1957 on the Republican ticket, the first time an African-American was nominated in Queens for elective office. She lost the election but remained active in the Republican Party. In 1966, Governor Nelson Rockefeller appointed her special assistant to the commissioner of the State Commission Against Discrimination (which later became the state Division of Human Rights), and she became a deputy commissioner six years later. During her tenure, she helped draft a new human rights law for the state and developed a hearing process for complaints.
Lucas left government service in 1975, working as a consultant on affirmative action programs. In 1982, she established her own firm consulting with banks in New York, Connecticut, and Ohio. Lucas served as the president of the Jamaica NAACP and was prominent in an array of religious, community, and business organizations. She was the first African- American woman elected to the Judicial Council of the United Methodist Church, its highest governing body. She was a great booster of black-owned businesses, including Ebony Oil Company, the first black-owned oil company in New York. She was a member of the board of trustees of Marymount Manhattan College, and the school awarded her an honorary Doctor of Humane Letters in 1986, a year before she died.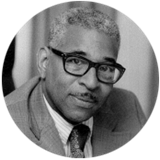 The Honorable William Thompson Sr. '54
Distinguished Public Servant

William Thompson Sr. had a long and distinguished career as an elected official and judge. He was elected to the New York State Senate in 1965—the first state senator from Brooklyn, where he served as chairman of the Joint Legislative Committee on Child Care Needs. Judge Thompson served on the New York City Council from 1969 to 1973. He was elected a Justice of the Supreme Court in 1974, and the same year he was designated an associate Justice of the Appellate Term, 2nd and 11th Districts (Kings, Richmond, and Queens Counties). In 1978, he was appointed Assistant Administrative Judge in charge of the Supreme Court for Brooklyn and Staten Island. In 1980, he was appointed by Governor Hugh Carey as an Associate Justice of the Appellate Division, Second Department. As an Appellate Division Judge for more than 20 years, he has analyzed more than 24,000 cases, encompassing all types of litigation. He retired in 2001 and serves as council to the firm of Ross and Hill and as a mediator. He died Dec. 24, 2018.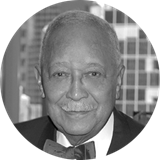 The Honorable David N. Dinkins '56
Trailblazing Mayor of New York

David N. Dinkins served as the 106th Mayor of the City of New York from 1990 to 1993. He began his long career in public service in 1966 in the New York State Assembly, and later served as President of the New York City Board of Elections, City Clerk, and President of the Borough of Manhattan. Early in his career, he maintained a private law practice.
As Mayor, Dinkins established numerous widely heralded cultural staples such as Fashion Week, Restaurant Week, and Broadway on Broadway. His administration also initiated the revitalization of Times Square and secured an unprecedented deal to keep the U.S. Open Tennis Championships in New York for the next 99 years, which generates more annual financial benefits for the city than the Yankees, Mets, Knicks, and Rangers combined. In addition, Dinkins instituted "Safe Streets, Safe City: Cops and Kids," a comprehensive criminal justice plan to reduce crime and expand opportunities for the children of New York.
Dinkins is on the faculty of the Columbia University School of International & Public Affairs, and he hosts its Annual Dinkins Leadership & Public Policy Forum. In 2003, the David N. Dinkins Professorship Chair in the Practice of Urban & Public Affairs was established at Columbia University.
Throughout his professional life, Dinkins has been active with many civic and charitable organizations; he currently serves on the boards of the Association to Benefit Children, Children's Health Fund, Coalition for the Homeless, the Nelson Mandela Children's Fund, New York City Global Partners, and Posse Foundation. He is a member of the Council on Foreign Relations and the National Advisory Board of the International African American Museum and is on the steering committee of the Association for a Better New York and the New York Urban League's Advisory Council. Dinkins is a founding member of the Black & Puerto Rican Legislative Caucus of New York State and One Hundred Black Men. His memoir, A Mayor's Life: Governing New York's Gorgeous Mosaic (Public Affairs, 2013), chronicles his inspiring work.
Dinkins received his B.S. in mathematics from Howard University and his LL.B. from Brooklyn Law School. He also served as a Montford Point Marine in the U.S. Marine Corps during World War II for which he received the Congressional Gold Medal for his service.
In June 2015, Dinkins was honored as an Icon of Brooklyn Law School at a gala on Ellis Island.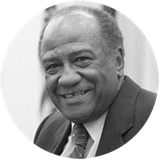 Benjamin Ward '65
First Black NYC Police Commissioner

Benjamin Ward served as the first black commissioner of the New York City Police Department and was known for being one of the nation's first promoters of community policing. He passed away in 2002, at the age of 75.
According to his New York Times obituary, "Ward, whose booming voice and strong sense of self made him seem even taller than his 6 feet 1 inch, was a lifelong study in focused ambition. The son of a cleaning woman, he earned degree after degree while working at full-time jobs. He served as city traffic commissioner, as corrections commissioner for both state and city, and as chief of the city housing police before becoming New York's top police official. In more than five years as police commissioner, from 1983 to 1989, he commanded the city's war against the scourge of crack and the addicts desperately in need of money for their habit. It was a wild period of heightened crime, when many people put signs on their parked cars declaring no radio was inside."
Ward was born and raised in Brooklyn, one of 11 children. He graduated from the Brooklyn High School of Automotive Trades in 1944, and was drafted into the Army. He served two years in Europe as a military police officer and worked as a truck driver, among other jobs. When he returned to civilian life, his first job offer came from the Sanitation Department. He took the police test in 1951 and placed third among 78,000 applicants. After seven years on the beat, he went back to school—earning his associate, bachelor's and law degrees from Brooklyn College and Brooklyn Law School—and then rapidly advanced through the police ranks. After his retirement, Ward served on the board of Medallion Funding Corporation and remained active in humanitarian and professional organizations.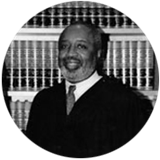 The Honorable Sterling Johnson Jr. '66
Senior United States District Judge for the Eastern District of New York

Sterling Johnson Jr. presides over federal civil and criminal cases in the Eastern District of New York. Prior to his appointment, Judge Johnson served as an attorney for 30 years, specializing in drug enforcement and the prosecution of narcotics cases. As the special narcotics prosecutor for the City of New York, he supervised assistant district attorneys and investigators responsible for the preparation and prosecution of more than 7,000 criminal cases. He has been a guest lecturer at many U.S. universities and law schools, as well as in various countries throughout the world. Before becoming a lawyer, Judge Johnson was a U.S. Marine and an officer with the New York Police Department for more than a decade. Born in Brooklyn, Judge Johnson received his B.A. from Brooklyn College.
Judge Johnson took part in Brooklyn Law School's EDNY Day in October 2019. Read more.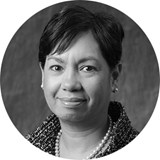 Wanda Denson-Low '81
Former Senior Vice President, Office of Internal Governance, the Boeing Company, and Vice Chair, Rensselaer Polytechnic Institute Board of Trustees
Wanda Denson-Low retired from her position as the Senior Vice President of the Office of Internal Governance for The Boeing Company, the world's leading aerospace company in 2014. She was a member of the company's Executive Council, a direct report to the CEO, and Denson-Low was named to that position in May 2007. She was responsible for the management and oversight of global compliance; internal audit; enterprise risk management; ethics and business conduct; and global trade controls, which includes all import and export activities for the entire Boeing Company.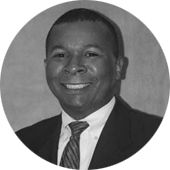 Robert E. Johnson '82
Founder and Partner, Johnson Liebman, LLP
Robert E. Johnson is a founder of Johnson Liebman, LLP, a civil practice firm committed to providing quality legal services to corporations and individuals in the New York Metropolitan area. Johnson is a civil litigation attorney with extensive litigation and transactional experience. He has worked on behalf of numerous insurance companies, Risk Retention Groups and self-insured businesses and clients. He has successfully defended corporations, trucking companies, supermarkets, retail businesses, large and small, as well as individuals in a variety of civil litigation matters. Robert has also handled complex assignments involving insurance coverage issues and Declaratory Judgment actions.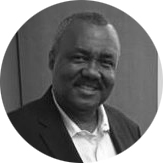 Winston A. McLaughlin '84
Corporate Vice President, New York Life Insurance Company

Winston A. McLaughlin '84 has led a career in regulatory compliance for national banks and life insurance companies since graduating from Brooklyn Law School. He currently serves as Corporate Vice President responsible for compliance at New York Life, having joined in 2011. Winston's career began at the Bank of New York, where he served as an attorney and audit officer for securities from 1984 to 1994. He then became a vice president for compliance at Bank of America from 1994 to 1999, before moving on to the Mellon Financial Corporation (1999 to 2004) and Morgan Stanley (2004 to 2007) to serve as their compliance officer for investment and broker-dealer activities. Winston transitioned into life insurance in 2008 when he moved to The Hartford as its Director of Securities Compliance until 2011, when he assumed his current role. Winston was also called on to serve on the membership committee of FINRA, the self-regulating body of dealers and brokers, from 2014 to 2017.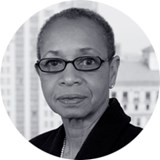 Jacqueline McMickens '88
Founder and Senior Partner, Jacqueline McMickens & Associates, PLLC

Jacqueline McMickens is the founder of Jacqueline McMickens & Associates, a practice specializing in matrimonial and family law, discrimination and civil rights litigation, real estate law, trusts and estates, legal services for faith based organizations, and criminal law. She also is a consultant for correctional systems and has worked as a special master for the State of Connecticut under the Connecticut District Federal Court. In 1984, Mayor Edward Koch named her Commissioner of the Department of Correction, making her the first female correction officer in the United States to become Commissioner of a major correctional agency. She also attended Brooklyn Law School while serving as commissioner.
Read more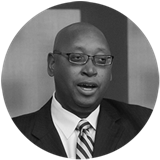 Stan Wilcox '88
Executive Vice President of Regulatory Affairs, NCAA

Stan Wilcox is executive vice president of regulatory affairs at the NCAA. Previously, he was Florida State University's director of athletics, the first African-American and the 15th person in the school's history to hold the title. A former basketball star at Notre Dame, Wilcox worked for his alma mater, the Big East Conference, and the NCAA before joining Duke University as senior deputy athletic director in 2008 before moving to FSU. He was also the president of the Black Coaches Association from 2003 to 2005 and spent 11 years on the organization's board of directors. FSU has claimed nine ACC Coach of the Year honors, won 13 ACC titles, a Heisman Trophy, and many other notes of distinction under Wilcox's tenure. Originally from North Babylon, N.Y., Wilcox holds a B.A. from Notre Dame.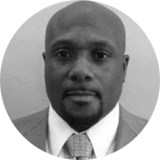 Alphonzo A. Grant Jr. '98
Managing Director, Morgan Stanley

Alphonzo Grant Jr. is a Managing Director at Morgan Stanley and currently serves as the Head of the Global Litigation Group's Special Investigation Unit for Institutional Securities and Investment Management. Grant oversees and conducts internal investigations across the company's several business units and represents the company in various regulatory and criminal matters.

Shawn A. Miles '98
Executive Vice President, Public Policy, Mastercard

Shawn A. Miles is the executive vice president of Public Policy at Mastercard. In this role he is responsible for public policy and community engagement matters across the globe. Miles is a leader, executive and attorney with over 25 years of service at Mastercard. He has built a multifaceted career in the areas of public policy, law, business and community affairs.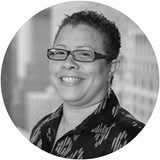 Dona J. Fraser '01
Director, CARU

Dona J. Fraser, a leading expert in children's privacy issues and the marketplace for children's advertisers, is Director of CARU, the advertising industry's program to evaluate child-directed advertising in all media to advance truthfulness, accuracy, and consistency with its Self-Regulatory Program for Children's Advertising and relevant laws.
Fraser previously served as Vice President, Privacy Certified, and Director, Privacy Online, with the Entertainment Software Rating Board (ESRB), a program developed by the video game industry. In both roles she was responsible for helping companies develop data collection and privacy practices to meet ESRB standards. She also crafted best privacy practices in areas including mobile apps, downloadable games, short-form privacy policies, behavioral advertising, and social networking. Before joining ESRB, Fraser served as a Director of Business and Legal Affairs for music labels at BMG/Sony Music in New York.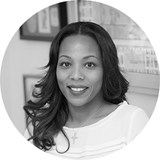 Nicole George-Middleton '01
Senior Vice President, ASCAP

Billboard magazine named Nicole George-Middleton '01 one of the most powerful executives in the music industry, and it's easy to see why. As senior vice president of membership at the American Society of Composers, Authors and Publishers (ASCAP), George-Middleton has worked with some of the group's top talent, including Drake, Kendrick Lamar, Jay Z, and Usher. She advocates for the musicians' interests, develops creative partnerships, puts songwriters together with producers, hosts workshops and events, and connects emerging artists with mentors.
"My job is to promote and nurture everyone in our organization, from developing songwriters to accomplished composers like Ne-Yo," she said.
George-Middleton has spearheaded a number of initiatives for ASCAP's more than half a million members, including a lunch series called "Break Bread" that invites songwriters to participate in jam sessions at its offices in New York City, Los Angeles, and Atlanta.
"We were hearing that our members want to spend time with other artists," she said. "They come here to have fun and just vibe and play and eat lunch. It's been amazing."
My job is to promote and nurture everyone in our organization, from developing songwriters to accomplished composers."
She and her team are also responsible for creating ASCAP's annual "Women Behind the Music" event, which celebrates women in music during Breast Cancer Awareness Month in October, and "Check It Out" events, where the organization rents space for songwriters to play their music in front of studio heads and industry heavyweights. The idea is to give ASCAP members more opportunities to get their music in front of important audiences. Even if it doesn't result in a strategic partnership, the writer receives helpful feedback and benefits from having a broader network of contacts.
George-Middleton, who holds a bachelor's degree in psychology from the University of Pennsylvania, began thinking in on negotiations with artists and to help draft their contracts. After graduating, she joined what was then known as Woods & Middleton, a small boutique entertainment firm (now the Middleton Law Group), where she spent seven years representing talent like DMX, Kelly Price, and Foxy Brown. "The work allowed me to form strong relationships in the entertainment industry and build my knowledge of copyright law and issues facing songwriters and artists," she said.
Returning to the label side, she joined the RCA Label Group's Jive Records in house as director of business and legal affairs. For three years, she negotiated recording agreements and music publishing agreements. Then in 2008, ASCAP recruited her to join its urban rhythm and soul department, largely because of her legal training and the strong relationships she had built in the music industry.
"Music is the soundtrack to life," she said. "At ASCAP, we want people to enjoy it, and we want to make sure that writers and musicians are properly compensated for it."

Frederick Curry '03
Anti-Money Laundering and Economic Sanctions Practice Leader at Deloitte, and Member of the Brooklyn Law School Board of Trustees

Frederick Curry, who is based in the Washington, D.C. metro area, drives the practice that helps organizations around the globe detect and prevent money laundering and other financial crimes. He began his long career in anti-money laundering at the Federal Reserve Bank of New York as a lead AML bank examiner and subsequently at the law firm Katten Muchin Zavis Rosenman LLP, advising large financial institutions on economic sanctions compliance. He serves often as a consultant and expert witness for major banks in cases involving allegations of money laundering and financial fraud.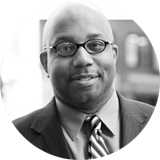 Errol Louis '05
Award-winning Journalist

Errol Louis is the political anchor of NY1 news, where he hosts "The Road to City Hall," and director of Urban Reporting at the CUNY Graduate School of Journalism. He is a longtime CNN contributor and writes frequently for CNN.com. He writes a weekly column for the New York Daily News and previously served on the editorial board at the newspaper from 2004 to 2010. He is co-editor of Deadline Artists, a two-volume anthology of America's greatest newspaper columns.
Louis has been recognized with numerous accolades for his influential political reporting. He was the featured speaker and honorary degree recipient at the Law School's 2017 Commencement. Originally from Harlem, he holds a B.A. from Harvard, an M.A. from Yale University, and a J.D. from Brooklyn Law School.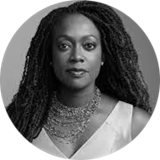 Ashley Allison '11
Executive Vice President, The Leadership Conference

Ashley Allison has built an impressive career in public service and public engagement, from Brooklyn to the White House. She currently is Executive Vice President of campaigns and programs at The Leadership Conference, which builds public will for laws and policies that promote and protect the civil and human rights of every person in the United States. Previously, she served as the deputy director at the White House's Office of Public Engagement and the national director of partner engagement and outreach for Enroll America, which helps to enroll individuals in healthcare programs. She also acted as a liaison to the faith community for the Obama Administration.
Allison worked in various capacities for former President Barack Obama, acting as a regional field director in Ohio for the reelection campaign in 2011, and acting as constituency coordinator for the 2013 presidential inaugural committee. Before that, she worked as a journalist in Brooklyn, and acted as an advocate for fair housing, voting rights, and economic justice. She also was a New York City Teaching Fellow, working as a special education teacher in the New York City Public School System. She received her bachelor's degree from Ohio State University and a Master of Education from LIU in Brooklyn.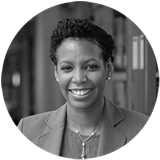 Leanne Welds '14
Associate, Simpson Thacher

Leanne Welds is an associate in the real estate practice at Simpson, Thatcher & Bartlett LLP. Originally from Jamaica, she grew up in Brooklyn and received her bachelor's degree from Pomona College in 2010. She then graduated magna cum laude from Brooklyn Law School, after serving as the executive articles research editor for the Brooklyn Law Review and winning the William Payson Richardson Memorial Prize. In 2014, she was the first Brooklyn Law Student to win the national competition for a Brown Award by the Judge John R. Brown Scholarship Foundation, which awards a $10,000 stipend, for her paper "Giving Local Municipalities the Power to Affect the National Securities Market."
During law school, Welds was a member of the Community Development Clinic taught by Professor David Reiss, and served as an extern with Enterprise Community Partners, an affordable housing firm. She also served as secretary of the Black Law Students Association.
"Leanne's passion for the law is complemented by an excellent work ethic, good legal judgment, and serious intellectual firepower," said Professor David Reiss. "She is a rising star and I have no doubt she will not only be a valuable member of the bar, but that she will also play a leadership role in the community.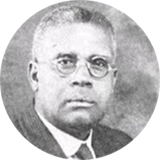 Sumner H. Lark 1916
Advocate for African American Lawyers

Sumner H. Lark was born in Hamburg, South Carolina, in 1874. His father had been a slave. He attended school in Augusta, Georgia, and in 1897, graduated from Howard University. He returned to Georgia, and taught physics and chemistry at the Haines Normal and Industrial Institute in Augusta.
In 1900, he moved to Brooklyn, where he opened his printing business and established a weekly newspaper for the black community called "The Eye." In 1913, at age 39, he applied to Brooklyn Law School. While still a law student, in 1915, he wrote in an essay in the souvenir program to accompany a national exhibition commemorating the achievements of African Americans in the 50 years since the signing of the Emancipation Proclamation that for black people to enjoy the full measure of citizenship, some needed to become lawyers. He wrote, "He who would have liberty, must be vigilant; he who would get his rights, must have a lawyer."
In 1922, he became only the second African American Assistant District Attorney in Kings County. He worked there until 1924, when he returned to private practice.
Read more about Sumner H. Lark here.