Vice Dean Miriam Baer's New Book Explores Common Misunderstandings of White-Collar Crime
11/02/2023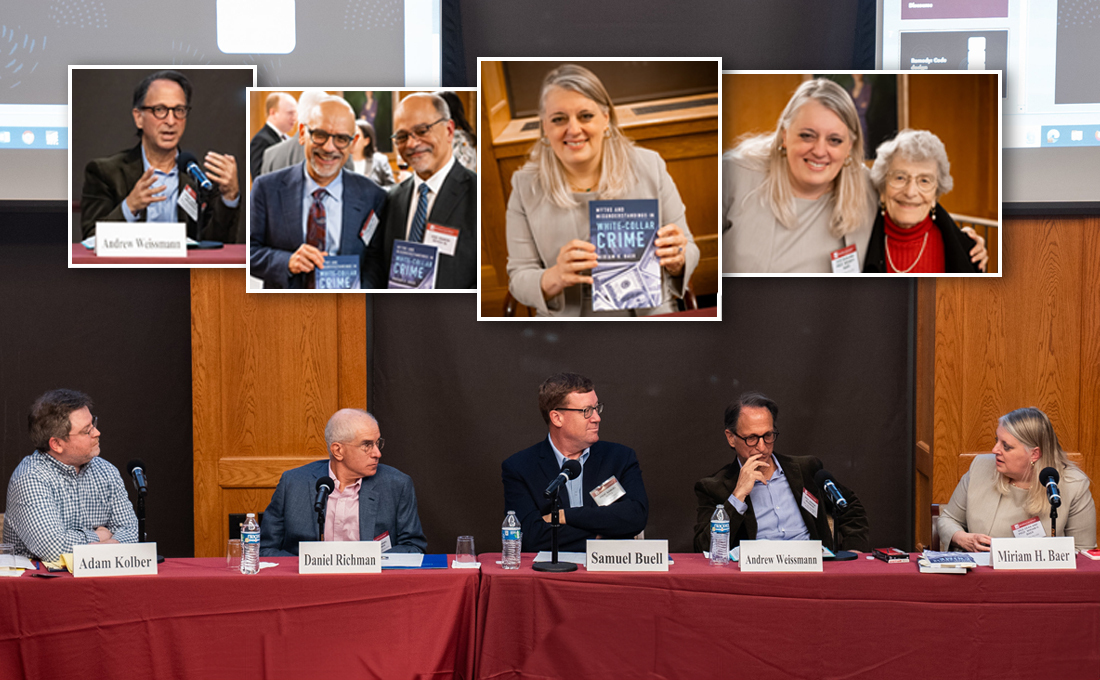 A discussion of Vice Dean and Centennial Professor Miriam Baer's new book Myths and Misunderstandings in White-Collar Crime, (Cambridge University Press, 2023), drew a highly decorated panel of experts who discussed Baer's book and its core critique of federal enforcement institutions.
Baer, a leading expert in matters concerning business and criminal law, is a former federal prosecutor and has taught criminal law-related courses at Brooklyn Law School for years. She was joined in an Oct. 17 discussion of the book by: Samuel Buell, Bernard M. Fishman Distinguished Professor of Law, Duke University School of Law; Daniel Richman, Paul J. Kellner Professor of Law, Columbia Law School; and Andrew Weissman, Professor of Practice, New York University School of Law and former lead prosecutor in Robert S. Mueller's Special Counsel's Office (and frequent MSNBC commentator). Brooklyn Law Professor Adam Kolber served as moderator.
The book explores the shortcomings of the federal criminal code as it relates to crimes of deception and corruption. Using real-world examples, Baer draws on theories of institutional design and behavioral psychology to offer a step-by-step framework for revising parts of the federal code, demystifying white-collar crime's enforcement, and improving its discourse.
Speaking of the current state of affairs, Baer said, "White-collar crime's institutions have confused and misled us. A combination of poorly tracked offenses, ungraded laws, and underwritten codes obfuscates the federal government's enforcement activities and distorts our assessment of deception and its enforcement. As a result, we lack a clear understanding of what our institutions are doing, and we lose faith in them."
After Baer offered an overview of the book and its proposed solutions, the panel then took up the discussion. Buell, an author of numerous articles and books including the casebook, Corporate Crime:  An Introduction to the Law and its Enforcement, praised the timeliness of Baer's book for those write about corporate and white-collar crime and highlighted Baer's argument that the system as currently configured fails to educate and inform the general public.
"[Baer] is the first, I think, to comprehensively nail down the application of this problem to white collar crime," Buell said. He further discussed Baer's "two novel contributions to the field" which included her explanation of a temporal "gap" between the moment a person is "liable" for a crime and the moment a case becomes "viable" to a given prosecutor. Throughout the evening, Baer and Buell debated the strength of this "viability/liability" gap and its attendant impact on government enforcement decisions.
Richman, a former federal prosecutor in the U.S. Attorney's Office for the Southern District of New York, called Baer's book, "a brave contribution" because, unlike many other scholars, Baer's book does not blame all of white-collar crime's shortcomings on prosecutors. Speaking favorably of Baer's book, Richman concluded, "Miriam does not give Congress a pass, and she holds its feet to the fire."
Richman also spoke of the challenges to increasing transparency in the criminal justice system. Reflecting on Baer's proposal to subdivide federal criminal statutes and introduce "grading" to white-collar crime, Richman questioned the informational benefits of moving to a graded system: "A relationship between cases and adjudicate results and the world of plea-bargaining means that's almost never true," Richman said. "In a sense, grading ends up transferring a lot of authority to prosecutors.… And prosecutors are going to be using these pieces of code as tools in plea-bargaining."
Weissmann, a well-known commentator on federal and white-collar crime, drew on his experience as a former general counsel for the FBI and former prosecutor to offer his assessment of Baer's argument. Acknowledging Baer's critique of the federal criminal code, Weissmann nevertheless concluded: "The issue that I see is more on the enforcement side, almost regardless of whether we have a cleaner system."
Responding to the commentary of her fellow scholars, Baer argued that we should "push our legislators," to rewrite faulty statutes, regardless of the plausibility of Congress taking up such a reform project at this moment. The evening ended on a high note, with Baer's observation that the purpose of the book was to plant an idea that could be taken up in the future.