U.S. Attorney Damian Williams Shares Advice With Brooklyn Law Students
11/06/2023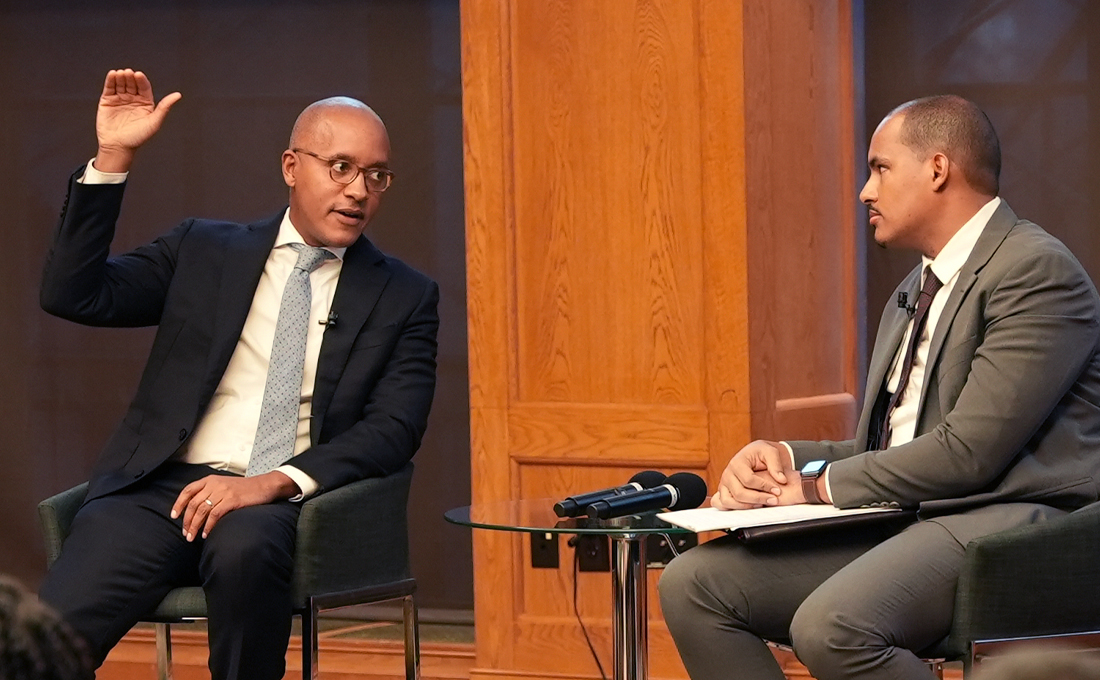 Be humble, be kind, be generous—and be prepared. So went the message to students from Damian Williams, U.S. Attorney of the Southern District of New York, who visited Brooklyn Law School for a "fireside chat" featuring an intimate conversation with students on his life and career. Leading the conversation with Williams was Christopher Foderingham-Garraway '19, appellate attorney at the Second Judicial Department.
The event was held on Oct. 19 through the joint efforts of the Brooklyn Law School Black Law Students Association (BLSA), the Caribbean Attorneys Network, and the Northeast Black Law Students Association.
Williams, whose nomination by President Joe Biden was confirmed by the U.S. Senate in 2021, is the first Black person to lead the Southern District's office in its 233-year history. He has since served as the lead prosecutor of such high-profile cases as that of FTX CEO Sam Bankman-Fried (who has, since the talk took place, been convicted of fraud) and U.S. Sen. Robert Menendez (D-N.J.), who faces a federal indictment that accuses him of violating corruption and bribery laws.
Williams spoke about how when he started at the U.S. Attorney's office, leading it wasn't his plan, but that he had always moved forward in his work to be in the best position to assume the role if it presented itself. "He talked about how, whatever his goal or whatever the case, he plans meticulously for it," said BLSA President Rahmel Robinson '24.
Williams stressed the importance of mentoring others and of the impact of being mentored himself, especially during his clerkships with then-federal appellate judge Merrick B. Garland (now the U.S. attorney general) and the late Supreme Court Justice John Paul Stevens. "He said he knows that whatever position he's in, he's not in the seat permanently, so he works to make it better for those that follow him," said BLSA Executive Board member Nneka Wharton '24.
Williams' advice to students: don't let power compromise your capability for kindness, generosity, and humility; those are the keys to your success, said Robinson. "He emphasized that in every situation you may have self-doubt but that you always have something to learn, and something to give. And to always keep looking toward the next challenge," Robinson said.