Civil Libertarians Examine Current Challenges, Celebrate Professor Susan Herman's Book
10/20/2023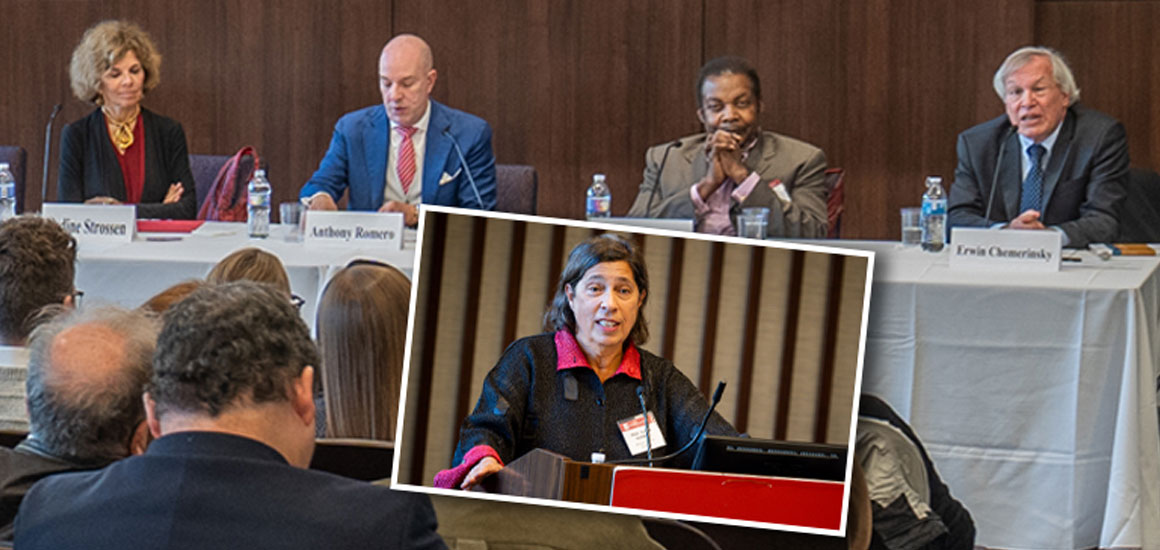 By Teresa Novellino
A book talk for Advanced Introduction to US Civil Liberties by Ruth Bader Ginsburg Professor Susan Herman, cosponsored by Brooklyn Law School and the American Civil Liberties Union (ACLU), brought together a panel of eminent civil libertarians to discuss the challenges and sources of hope for those championing the cause of protecting individual freedoms.
Herman's 150-page book, applauded by panelists as a concise and essential read, could not be timelier, said President and Joseph Crea Dean David D. Meyer, who introduced the Oct. 13 event. The civil liberties protected by the U.S. Constitution have expanded and contracted over the years, but external events are now the primary driving force, he said.
"We meet at a time of unusual uncertainty about the future of the trajectory of civil rights in this country because of the confluence of seismic external events: increasing polarization in our politics that jeopardizes the foundation of our democratic process; changes to the composition of the Supreme Court that have overturned longstanding precedent and invited reconsideration of longstanding doctrine; and, of course, we meet at the end of a terrible and horrific week of violence that ushers in war in the Middle East and dramatic new anxieties throughout our country and the world about the prospect of terror and the state of human rights," Meyer said.
Still, despite the difficulties of forecasting the future of civil liberties under such intense pressure, Herman and the assembled panelists are uniquely positioned to do so, he said.
Herman, who has been on the Law School faculty for 43 years, simultaneously served as ACLU president from 2008 to 2021. She described how she first became interested in civil liberties as a third grader who was told that she could only borrow books from the public-school library's "girls' section." Her mother swiftly called school officials and "gave them a piece of her mind," and within days the policy changed. Recent events show that book banning battles in public schools are still with us, Herman said.
"The opening line in my book is a quote from the ACLU's first executive director, Roger Baldwin, who said the battle for civil liberties never stays won," Herman said. "Much of what my book is about are these pendulum swings. The book lays out how, starting in 1920, the Supreme Court began to recognize various civil liberties, starting with the First Amendment and expanding to many other different civil liberties that would be protected by the courts. But there's always something new, and there are always recurrences of the same old problems."
Panelist Erwin Chemerinsky, dean of UC Berkeley School of Law, listed some of those problems, including state voting rights challenges, racial inequality, eroding LGBTQ rights, and the Supreme Court's decision to strike down affirmative action.
"If there's anything that should come from this discussion, it's the need for all of us to recommit to fighting for the things that Susan and these panelists have, for years, been fighting for," Chemerinsky said. "The reality is we're not going to be able to look to this Supreme Court to advance equality and freedom… We must look to other paths," Chemerinsky said.
State courts, constitutions and legislatures, including in states where Republicans dominate, can help protect civil liberties, he said, pointing to courts in some conservative states like North Dakota and South Carolina that are now "providing more reproductive freedom than the United States Constitution does," given the Supreme Court's overturning of Roe v. Wade.
"It's harder because it must be bought state by state. It's not going to be just one decision by the United States Supreme Court. But it is possible, and that's what we need to do," Chemerinsky said.
Ellis Cose, a journalist and author who wrote the history of the ACLU for its centennial in 2020, said he thinks of civil liberties as the "rules that protect us from the government" and of civil rights as the rules "that protect us from each other," and that both are "rather fragile," as made clear by the rise of Trumpism and political polarization nationwide.
"The tradition of protection for the civil liberties and protection of civil rights is not nearly as long-lasting as deep or as broad as we often like to think," Cose said. "For that reason, we need to get reminders every now and again of what they mean, why they are important and why they are essential to the society that we have today."
The Bill of Rights, he said, has not been consistently respected since its adoption two and a half years after the constitution, and until 1925 did not even apply to the states. "One of many reasons actually that the ACLU is so important is that it really breathes new life into that document," Cose said.
Anthony D. Romero, executive director, ACLU, said the organization's largest issue is challenges to U.S. democracy, which fall into two buckets.
"One is to our norms, rules and procedures and the functioning of our institutions, and you can think about all the different ways in which democracy is challenged that way," Romero said, citing as examples the denial of individuals' right to vote, efforts to circumvent or subvert elections -- as seen in the Trump case in Georgia -- or efforts to impeach officials with whom some disagree -- as seen in Wisconsin, where Republicans were recently threatening to impeach a newly-elected state Supreme Court justice. Such cases occupy much of the ACLU's time.
The second bucket relates to human dignity. "Our concerns here are with the efforts to gut the rights and liberties that define democracy and make life in a democracy worth living," Romero said, such as the ability to "love who you wish and worship any God or no God at all."
He cited the ACLU's work in protecting abortion rights in five states via ballot referendums, all of which were won, as an impetus for the ACLU shifting somewhat away from the litigation for which it is best known and toward a more politically active stance.
"I think the work we're doing today is bringing us back to our roots. When the courts don't provide us an opportunity to make the advances we want, then we will have to necessarily use the political arena and we should be unapologetic about it and unafraid" he said. "We can criticize Republicans, and we can criticize Democrats. We can work with them both, but I think to not engage in the political realm would be malpractice for social justice practitioners like me."
Nadine Strossen, John Marshall Harlan II Professor of Law, Emerita, New York Law School and former president, ACLU, echoed other speakers when she said she sees hope in the activism of today's students, citing the murder of George Floyd as just one impetus behind an activism among young people not seen since the 1960s and 70s.
"We had several decades when public opinion polls showed that students were so indifferent to public issues, they didn't even pay attention to the news, let alone become engaged themselves," Strossen said. "We have now a generation that is hungry for activism, committed to human rights, committed to dignity and equality, exercising their free speech rights with great vigor. It becomes a virtuous circle, especially when they see the great results that Anthony was able to describe."