Professor Alexis Hoag Receives Constance Baker Motley Award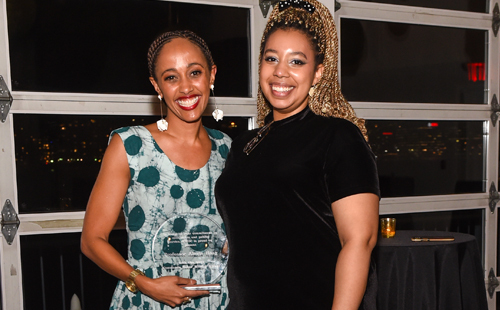 Honoring Professor Alexis Hoag for her accomplished career and inspiration as a civil rights and criminal defense lawyer, scholar, dedicated teacher, mentor, and advocate for justice, Columbia Law School's intersectional student group Empowering Women of Color (EWOC) on April 8, presented her with its Constance Baker Motley Award at its annual gala.

The award—named in honor of Judge Motley, the trailblazing civil rights activist, first woman president of the borough of Manhattan, and the first Black woman to be appointed to the Federal bench, in 1966, who later served as the Chief Judge of the Southern District of New York—recognizes the achievements and inspiration of women of color in the legal profession. The 2020 Motley Award recipient was United States Associate Justice-designate, Ketanji Brown Jackson.

"The path Judge Motley forged helped make all our professional journeys possible," said Professor Hoag, in accepting the award and emphasizing the theme of this year's EWOC gala, "Growing Forward Together." "Without Judge Motley, there is no Justice Ketanji Brown Jackson. Black women make up less than 2 percent of lawyers, but we represent 30 percent of the women's prison population and 44 percent of the women's jail population," said Professor Hoag. "The profession needs us."

Hoag relayed her own path from NYU Law to focusing on capital cases at the Office of the Federal Public Defender in Nashville, Tennessee. "My role was to show my client's humanity to the court and convince a judge that my client's life was worth saving. I bore witness, I cataloged trauma, and I showed my clients—through the team's efforts—that they mattered. And like Justice Jackson, I defended the Constitution and held the state accountable. Because that's what public defenders do."

Working as senior counsel with the NAACP Legal Defense and Educational Fund (LDF), which has been on the forefront of abolishing the death penalty, she said, allowed her to broaden her advocacy. "Through litigation, public education, and community organizing we shifted the very atmosphere in which civil rights claims are understood. We elevated our clients' voices."

"Even though my career looks linear, I didn't experience it that way," said Hoag, who transitioned from practice to academia (at Columbia and now at Brooklyn Law School). "Instead, I relied on relationships, timing, and taking risks." Former LDF President and Director-Counsel Sherrilyn Ifill, encouraged her to enter academia to help train the next generation of civil rights advocates. "Taking a step back from practice, has enabled me to view the criminal legal system through a more critical lens."

"Through teaching, my approach and understanding of the law as a tool for change has shifted. We have much to learn from our clients, organizers, and other disciplines; from other cultures that don't rely on carceral systems to solve their problems. Abolition presents a path forward."

At Brooklyn Law, Professor Hoag offers classes in Evidence, Criminal Procedure Adjudication, and, for the first time, in spring 2023, Abolition. Our student body recently voted her Faculty Member of the Year.

Pictured in photo: Professor Alexis Hoag (L) and Julianna Simms, Columbia Law School Class of 2023 (R). Photo by Diane Bondareff.