Meet Michael T. Cahill, Brooklyn Law School's New President and Dean
09/06/2019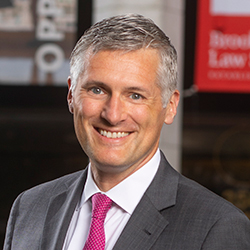 Michael T. Cahill became the President and Dean of Brooklyn Law School on July 1, 2019.
Cahill is the Joseph Crea Dean of the Law School and he is also a tenured Professor of Law on the faculty. Cahill is the ninth dean in the Law School's 119-year history.
A prominent scholar and experienced leader, Dean Cahill returns to Brooklyn Law from Rutgers Law School, where he served as Co-Dean and Professor of Law. Before heading to Rutgers in 2016, he was a faculty member at Brooklyn Law School for 13 years and held senior administrative posts for five of those years, first as Associate Dean for Academic Affairs and then as Vice Dean.
Under his leadership, Rutgers Law School made significant strides to improve student quality, enhance alumni engagement, stabilize revenue, and build a shared identity in the wake of the recent merger of its two locations. Dean Cahill will miss the many great colleagues, students, and alumni at Rutgers, but ultimately he was unable to resist the chance to "come home" to Brooklyn Law.
"I am excited and grateful to be entrusted with the opportunity, and obligation, to advance this great law school's legacy of academic excellence and to promote the tremendous impact and influence of our graduates around the world," Dean Cahill said. "I am dedicated to ensuring that Brooklyn Law School's overall reputation fully reflects, and honors, the individual talents and accomplishments of our outstanding faculty, students, alumni, administrators, and staff. We will seize opportunities to lead in a dynamic legal landscape while remaining true to our proud history."
Dean Cahill's scholarly work, which has appeared in top law reviews, focuses primarily on criminal law, and he also has written about and taught health law and policy. He received his J.D. (magna cum laude) and M.P.P. degrees from the University of Michigan and his B.A. from Yale University. After graduating from law school, where he was a note editor for the Michigan Law Review, he served as a law clerk to Judge James B. Loken of the U.S. Court of Appeals for the Eighth Circuit. He then was staff director and consultant, respectively, for major criminal code reform projects in Illinois and Kentucky.
---
Selected Publications
Books
Criminal Law: Case Studies and Controversies (Wolters Kluwer, 4th ed. 2016) (with P.H. Robinson & S.B. Baughman)
Criminal Law (Aspen Treatise Series, 2d ed. 2012) (with P.H. Robinson)
Law Without Justice: Why Criminal Law Doesn't Give People What They Deserve (Oxford University Press 2006) (with P.H. Robinson)
Articles and Book Chapters
Inchoate Offenses, in The Oxford Handbook of Criminal Law (M. Dubber & T. Hörnle eds., Oxford University Press 2014)
Punishment Pluralism, in Retributivism: Essays on Theory and Policy (M.D. White ed., Oxford University Press 2011)
Competing Theories of Blackmail: An Empirical Research Critique of Criminal Law Theory, 89 Texas Law Review 291 (2010) (with P.H. Robinson & D.M. Bartels)
Attempt by Omission, 94 Iowa Law Review 1207 (2009)
Retributive Justice in the Real World, 85 Washington University Law Review 815 (2007)
Attempt, Reckless Homicide, and the Design of Criminal Law, 78 University of Colorado Law Review 879 (2007)
The Accelerating Degradation of American Criminal Codes, 56 Hastings Law Journal 633 (2005) (with P.H. Robinson)
Pegram's Regress: A Missed Chance for Sensible Judicial Review of Managed Care Decisions,
27 American Journal of Law and Medicine 421 (2001) (with P.D. Jacobson)
The Five Worst (and Five Best) American Criminal Codes, 95 Northwestern University Law Review 1 (2000) (with P.H. Robinson & U. Mohammad)
---
About Brooklyn Law School
Brooklyn Law School is a vibrant academic community emphasizing excellence in teaching and research. Its innovative program of study is designed to prepare students to succeed in a rapidly changing market for new lawyers.
The faculty is nationally and internationally recognized for scholarship that blends pioneering insights with pragmatic reform proposals. The faculty's intellectual work, as individuals and through programs presented under the auspices of the Law School's centers and institutes, has a powerful impact on legal thinking, policy, and practice, engaging with every aspect of the law's relation to our personal, social, political, and economic lives.
Faculty members are also dynamic and dedicated teachers, overseeing a broad curriculum that delivers a wide range of skills and expertise. The clinical education program, launched 50 years ago, is one of the most diverse and comprehensive professional skills programs in the country. The legal writing program is at the forefront of curricular innovation to advance legal research, writing, and advocacy skills.
The Law School attracts talented and accomplished students of diverse backgrounds from around the country and the world. They benefit from, and ultimately join, a robust global alumni network of more than 23,000 graduates who are leaders in practice, business, and public service.