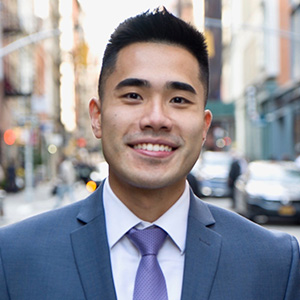 Hometown: Brooklyn

Career Plans: Associate, Cadwalader Wickersham & Taft

Recipient of the Glasser Scholarship
Why did you decide to come to Brooklyn Law School?
The diverse neighborhood and proximity to home, food, parks, and public transportation was a driving force in my decision. Brooklyn Law School has something for everyone. Whether you are looking to take a course on a niche area of law, seeking a faculty member who has knowledge and work experience in a specific subject, or wanting to join or start a club that serves one of many interests, you will find an opportunity here. If you can't find what you're looking for, you can be sure someone will be able to help and point you in the right direction.
What is the most surprising thing you learned at Brooklyn Law School?
Although there is a general competitive nature to law school, I learned that one's success and goals cannot be achieved without the support of family, friends, and the school's faculty members. It is important to put in your own effort, but it is just as important to be nice to others and preserve those relationships with colleagues and friends.
What law school accomplishment are you most proud of?
I wrote my student note about Airbnb and affordable housing in New York City, which was published during my 2L Spring semester in the Brooklyn Journal of Corporate, Financial & Commercial Law. Being able to write about an area of law I am passionate about (real estate) in connection with the city I love made the writing, editing, and publication process enjoyable. I served as the Managing Editor of the Journal and helped publish its 14th volume. Having the opportunity to work with talented writers, editors, and an awesome Executive Board was a very rewarding and fun experience.
If you could come back and teach a class here, any class, one we have or one of your own invention, what would it be?
A class on affordable housing in New York City. While some courses touch on certain aspects of affordable housing, I believe an extended course that talks about the history and development of affordable housing would interest many students.
What is your favorite place in Brooklyn?
Nothing beats a nice walk in the sun at Brooklyn Bridge Park (when it's not humid or freezing, that is).
What advice would you give to an incoming law student?
Work hard, but balance that work with time for yourself and others. It's easy to get swamped with studying and outlining, but it's just as important to do things you enjoy--or even try new things—and socialize with your peers. The best part of the J.D. journey is the experience: the people you meet and the friends you make along the way.
Your last semester of law school was disrupted by a global pandemic, with New York City at the epicenter. What was the biggest challenge you faced and how did you deal with it? What have you learned about yourself, your law school, and your hopes for the future?
As someone who spent a lot of time around the school, the biggest challenge I faced was missing the physical spaces and resources of the school. It also took a lot of discipline to focus on my studies while being cooped up and not able to socialize with friends in person. However, through this semester, I learned that, as future lawyers, it is part of our profession to be able to adjust and overcome unexpected obstacles even in a pandemic. While we aren't sure what the future holds, I am confident that when this pandemic is over, we will have become better learners, educators, and lawyers.