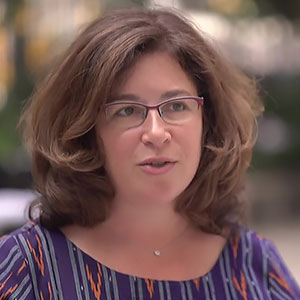 Hometown: Brooklyn

Career Plans: Law Clerk, Staff Attorney's Office, Second Circuit Court of Appeals

Recipient of Prince Scholarship, Sheila Fireman Seider Scholarship, and Dean's Merit Scholarship
What is the most surprising thing you learned at Brooklyn Law School?
As someone embarking on a second career and an "OWL" (older, wiser learner), I expected to attend classes, work alone in the library, and study at home. But I loved my classmates' camaraderie and commitment. Their passion and enthusiasm for the law inspired me. And I was surprised how proud I felt watching my classmates pursue their dreams, whether they chose to work in public service, for a law firm, or for government. I learned so much from them.
What law school accomplishment are you most proud of?
Before coming to Brooklyn Law School, I worked as a book editor, and about the same time I thought about applying to law school, I also had the chance to fulfill my dream of writing a book. Due to crazy timing, I finished writing Caring for Your Adopted Child (American Academy of Pediatrics, 2018) during my first year at law school. Both went well.
What is your most memorable law school moment?
My most memorable non-academic moment was winning the Halloween costume contest dressed as Supreme Court Justice Ruth Bader Ginsburg!
What did you like about going to law school in Brooklyn?
I chose Brooklyn Law School in part because of its location—I loved how close it is to numerous opportunities. You can walk across the street to an internship at the federal or state courthouse. You could walk across the Brooklyn Bridge for the many opportunities in Manhattan. Everything you could want as an aspiring lawyer is nearby. I thought that was a real advantage.
What advice would you give to an incoming law student?
It's helpful to have some real-world experience before you start, so you can approach law school like the profession it is. Law school is a job—a very challenging one—and you need to approach it that way. But please balance your hard work with time spent with your loved ones. My family's love and support made law school possible for me.