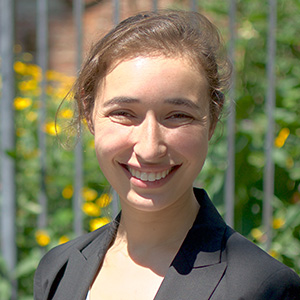 Hometown: Boston, Mass.

Career Plans: Legal Fellow, Public Employees for Environmental Responsibility

Recipient of the Lisle Scholarship and Dean's Merit Scholarship
What is the most surprising thing you learned at Brooklyn Law School?
Just how important being a good listener is to being a good lawyer.
What law school accomplishment are you most proud of?
Working with the Suspension Representation Project where I advocated on behalf of suspended students to reduce or dismiss their school suspensions in order to safeguard the student's right to education.
If you could come back and teach a class here, any class, one we have or one of your own invention, what would it be?
The classes I enjoyed most took a critical look at how the law affected our surroundings and how, if at all, it could be improved. I would want to teach similar classes, classes that explain why and how a law was created and how we can move the law forward to create a better society. For example, Professor Miriam Baer, who taught my first year criminal law course, provided a really wonderful examination of why we as a society have decided criminal laws are necessary, how they function, and if they actually serve their intended purpose. It was one of my favorite classes because it analyzed the inherent inadequacies within criminal law.
What did you like about going to law school in Brooklyn?
I was already living in New York City and working as a paralegal, so I was glad that I was able to stay here and keep my support system. Having non-law school friends helped keep me grounded.
What is your favorite place in Brooklyn and why?
Prospect Park. I don't live in Feil Hall and live closer to the park, which is wonderful. Being in the park reminds me that there are more important things in life than law school.
What advice would you give to an incoming law student?
Everyone learns and understands concepts differently. What works for someone else may or may not work for you. Only you know how you learn best, and no one else can tell you otherwise, so study how you would like to study.
Your last semester of law school was disrupted by a global pandemic, with New York City at the epicenter. What was the biggest challenge you faced and how did you deal with it? What have you learned about yourself, your law school, and your hopes for the future?
I learned that while law school is challenging, and I did not enjoy every aspect of the experience, I really enjoyed learning new topics and exploring the law with my peers.
Remote learning certainly brought many challenges, including isolation from my peers, not having a desk at home, and not having access to physical copies of books. However, the pandemic has solidified my passion to work in public interest, as there is nothing else I would rather be doing. I've become more active in local politics, which has allowed me to not feel as helpless, because I am now able to work on making my community better for everyone.