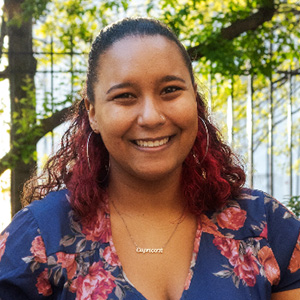 Hometown: Laurel, Md.

Career Plans: Public Defender, New York County Defender Services

Recipient of the Lark-Barranco Scholarship
Why did you decide to come to Brooklyn Law School?
I wanted to go to a small school that would feel like I actually mattered, rather than a big school where I would feel like a number. It sounds cliché, but it's actually true of Brooklyn Law School. Faculty and staff are personally invested in your success, and it makes the three years much more doable.
What is the most surprising thing you learned at Brooklyn Law School?
That the Constitution doesn't protect everything people think it does, and that prison abolition— the movement to make structural changes to our criminal justice system to reduce and eliminate prisons—is not only a good idea, but a possibility.
What law school accomplishment are you most proud of?
I'm most proud of my mock trial team making it to the National round for the Texas Young Lawyers Association's trial competition during my second year.
What is your most memorable law school moment?
Winning Best Advocate at my first law school mock trial competition as a second semester 1L competing for the Black Law Students Association.
If you could come back and teach a class here, any class, one we have or one of your own invention, what would it be?
My long-term goal is to come back to Brooklyn and teach Trial Advocacy to 2Ls once I'm an accomplished trial litigator.
What advice would you give to an incoming law student?
Take stock of the people in your support system and ask them to be patient with you for the next three years. You are going to need them.
Your last semester of law school was disrupted by a global pandemic, with New York City at the epicenter. What was the biggest challenge you faced and how did you deal with it?
It was definitely hard to adjust to online classes but I found I was able to do it with a little more diligence. On larger scale, the unfolding pandemic in New York, and its disparate impact on people of color, as well as the resurgence of the Black Lives Matter Movement and the daily protests in Brooklyn, ignited within me a political transformation. I am now more determined than ever to use my legal education to do the critical work of creating a truly just and equitable system.