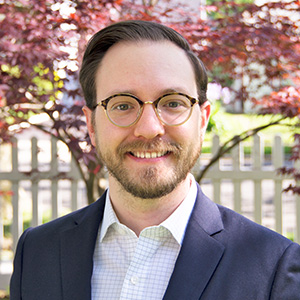 Hometown: Haughton, La.

Career Plans: Associate, Fried, Frank, Harris, Shriver & Jacobson

Recipient of the Lisle Scholarship
Why did you decide to come to Brooklyn Law School?
After visiting multiple law schools, it was clear to me that Brooklyn Law was not like the others. From the very beginning, the faculty and staff were genuinely invested in connecting me with every resource I needed to be successful, both academically and professionally. I appreciated that the Law School did not attempt to direct me to one type of law over another, so I had the opportunity to explore many different options before settling on bankruptcy.
What is the most surprising thing you learned at Brooklyn Law School?
I was surprised at the level of saturation of Brooklyn alumni in the New York City market. The Law School was able to connect me with multiple alumni at every organization and law firm I interviewed with during my 1L and 2L summers, and it made the interviewing process much less stressful.
What law school accomplishment are you most proud of?
I am most proud of my tenure as a judicial intern for Hon. Martin Glenn, U.S. Bankruptcy Court for the Southern District of New York. It was an honor to walk into chambers each week and learn from Judge Glenn, his law clerks, and his courtroom deputy. There is no better feeling than receiving positive feedback from a judge in your desired practice area, and I left that experience knowing that I could be a successful bankruptcy attorney.
What is your most memorable law school moment?
I will never forget the day that I represented a client in Immigration Court with the LGBT Advocacy Clinic. After compiling a persuasive brief, preparing for weeks, and arguing his case in front of an Immigration Judge, he was granted asylum after years of uncertainty. It was both the most terrifying and gratifying moment of my law school career.
If you could come back and teach a class here, any class, one we have or one of your own invention, what would it be?
I would enjoy teaching a bankruptcy seminar that exposed students to a bankruptcy case from start to finish. Each student would serve as the attorney to one of the parties, submit papers to the court, and argue a motion at a mock hearing. Bankruptcy practice is a unique mesh of litigation and transactional practice, and I think students should be exposed to both skill sets.
What advice would you give to an incoming law student?
Do not be afraid to approach professors outside of class. I would not be where I am today without the support and advice from my professors. You will have more questions than answers when you start your legal journey, and it is okay to ask for help along the way.
Your last semester of law school was disrupted by a global pandemic, with New York City at the epicenter. What was the biggest challenge you faced and how did you deal with it? What have you learned about yourself, your law school, and your hopes for the future?
The biggest challenge I faced was staying engaged and not losing focus as classes moved online. However, I was motivated by the effort that my professors were putting into the online lectures, and I owed them the same respect. The Law School met the challenge head on, and I had everything I needed to successfully finish my last semester. Most important, the pandemic reinforced the idea that flexibility and creativity are paramount in the practice of law.