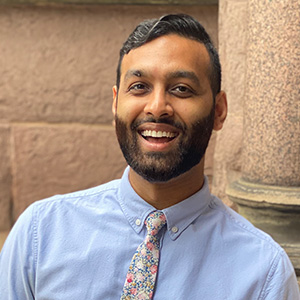 Hometown: Woodbridge, Va.

Career Plans: Staff Attorney, Communities Resist, Inc.
Why did you decide to come to Brooklyn Law School?
I chose Brooklyn Law School for its commitment to public service and all of the opportunities to learn about community lawyering.
What is your most memorable law school moment?
Being invited to testify at the New York City Council regarding the Small Business Jobs Survival Act. It was a great opportunity to speak directly to elected officials and express concerns over legislation that would have upended New York City's commercial leasing system at the expense of small businesses. I later converted my testimony into an article that was published in the New York Law Journal.
If you could come back and teach a class here, any class, one we have or one of your own invention, what would it be?
I would love to teach Government Advocacy. Ideally, I'd expand the course's scope beyond lobbying and include other players who interact with all levels of government.
What is your favorite place in Brooklyn and why?
Pier 3 at the Brooklyn Bridge Park. It's a wonderful green space that sits on a pier and simultaneously makes you feel like you've traveled outside the city while still providing unbeatable views Manhattan.
What advice would you give to an incoming law student?
Don't ever be intimidated by your peers; you are here for a reason. Don't be afraid to ask for help—no one learns everything on their own.
Your last semester of law school was disrupted by a global pandemic, with New York City at the epicenter. What was the biggest challenge you faced and how did you deal with it? What have you learned about yourself, your law school, and your hopes for the future?
My biggest challenge was to keep in mind that through all the uncertainty of both current and future events, law school had prepared me to roll with any punch, adjust on the fly, and make the best of any scenario.