And So I Stayed: Film Screening and Panel Discussion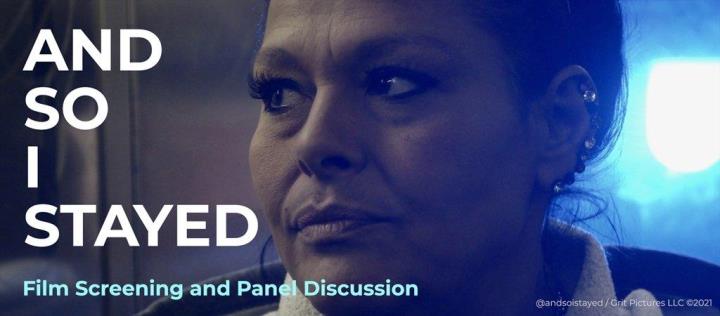 Film Screening: 4:15 to 5:45 p.m. Eastern Time (U.S. and Canada)
Limited spaces are available.
Intermission: 5:45 to 6:00 p.m. Eastern Time (U.S. and Canada)
Panel Discussion: 6:00 to 7:30 p.m. Eastern Time (U.S. and Canada)
This program will be held on Zoom with opportunity for audience questions. Registration for the film portion of the event is limited and on a first-come, first-serve basis. Attendees have the option of registering for the panel discussion only.
Sponsored by Brooklyn Law School's Center for Criminal Justice and Survivors Justice Project (SJP).
About the Film
AND SO I STAYED (GRIT PICTURES LLC © 2021) is an award-winning documentary directed by Natalie Pattillo and Daniel A. Nelson about survivors of abuse fighting for their lives and spending years in prison, profiling three women and their experience.
Formerly incarcerated survivor-advocate Kim Dadou Brown was a driving force in the passage of New York's Domestic Violence Survivors Justice Act (DVSJA), a new law meant to reduce harsh prison sentences for survivors. Nikki Addimando, a mother of two young children, suffered the consequences when a judge refused to apply the law in her prosecution. Tanisha Davis, a single mother who was ripped away from her son in 2013, is hopeful the new law is her way out of a harsh prison sentence.
The film demands viewers to bear witness to the generational trauma that women's incarceration perpetuates. It exposes the misogyny and racism embedded in the criminal legal system while also portraying the resilience, hopes, and dreams of survivors and their loved ones.
About the Event
The film screening will be followed by a panel discussion moderated by Alessandro Nardi '22, who has been working with survivors in prison seeking resentencing under the DVSJA through the Criminal Defense & Advocacy Clinic. The panel will feature Kim Dadou Brown and film co-director Natalie Pattillo, as well as Patrice Smith & Monica Szlekovics, members of Brooklyn Law School's Survivors Justice Project.
SJP is an interdisciplinary collective of activists, lawyers, researchers and students – many of whom are survivors of domestic violence and currently and formerly incarcerated women - working for the decarceration of domestic violence survivors by ensuring robust implementation and expansion of the DVSJA.
Can't attend? You can still support the Survivors Justice Project with a donation.
Please RSVP by Friday, October 29.
More Information
For general inquiries regarding this event, please contact the Brooklyn Law School Office of Events at events@brooklaw.edu or (718) 780-7966.
Requests for a reasonable accommodation based on a disability to attend this event should be made to Louise Cohen, Director of Equal Opportunity and Title IX Coordinator, at louise.cohen@brooklaw.edu. Please make your request at least ten days before the event. We will do our best to address accommodation requests made after the ten days.