Meet 13 Brooklyn Law School graduates who are paving the way to the future of law
By Kaitlin Ugolik
Brooklyn Law School graduates are taking their places in the new world of law in creative and bold ways that are getting noticed. They are serving as in-house counsel in new business sectors such as music streaming, stepping out as entrepreneurs in the sharing economy, creating essential Internet infrastructure, helping companies manage the volatile worlds of data privacy and financial compliance, and innovating in areas of law where existing statutes haven't caught up to technology-driven crimes.
Entirely new areas of law are emerging from technology's continued disruption of commerce, finance, government, and even personal relationships. At the same time, the global financial crisis has played a major role in flipping the balance of power between law firms and their corporate clients, with the former now struggling to find the best mix of attorneys at the best price point, and the latter forging ahead with their own legal departments. Meanwhile, electronic filing and clients' evolving views of the billable hour have firms and legal departments around the world hurrying to catch up to the latest ways to do business.
"The Class of 2015 secured a smaller number of jobs in private practice than any law school graduating class since 1996," said James Leipold, executive director of the National Association for Law Placement, in a recent report.
It's no secret that the profession has remained a fairly conservative field, often slow to adapt to new trends. Traditionally there have been a few well-trodden paths for lawyers—a job with a firm, a government position, public interest practice, or a career as in-house counsel for a business, for example. But in recent years, jobs for lawyers are popping up in some unexpected places. There has been a boom in J.D.-required and J.D.-preferred positions in numerous fields, from finance to online services, resulting from changing regulations and the seismic impact of technology.
"Our graduates are uniquely ready to lead in a profession that is being utterly transformed by technology and a changing social, political, and economic landscape," said Dean Nick Allard. "With the superb education and practical training they received at the Law School, they have the Brooklyn edge that enables them to not only succeed in their careers but propel the profession forward."
The personal is digital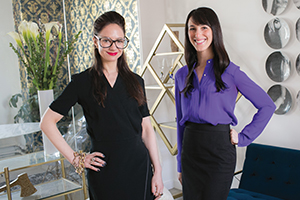 Brooklyn Law Notes Spring 2017Dubbed "a new kind of privacy champion," by The New Yorker,
, founder of the firm C.A. Goldberg, is at the forefront of a movement to use both new and existing laws to penalize perpetrators of online violence, including individuals who share compromising photos and videos of others without their consent. From her practice located in Downtown Brooklyn a few blocks from the Law School, she fights for victims of online harassment, sexual assault, and blackmail. This includes dealing with "sextortion" and non-consensual pornography, two issues that the legal world is still learning how to address, as well as conducting campus sexual assault hearings and fighting for targets of anti-abortion terrorism.
Many acts of violence today have a technology component, but current laws are not set up to recognize this type of violence as a crime. Goldberg is helping to lead the Cyber Civil Rights Initiative, a nonprofit organization aimed at ending nonconsensual pornography, and working on more than a dozen state criminal revenge porn laws around the country as well helping to craft a federal law, the Intimate Privacy Protection Act.
"It's thrilling to be at the ground floor of a legal issue, and it's been such a privilege to be able to have an influence on how tech companies respond to this kind of evil activity, as well as working with legislators to draft laws to address it," she said.
Goldberg, who previously spent five years at the Vera Institute of Justice, was the subject of a feature story in The New Yorker in December that examined in depth her work to pioneer this new area of law. Lindsay Lieberman '11 joined C.A. Goldberg in August as a senior associate. She had previously worked in the Special Victims Bureau at the Brooklyn District Attorney's Office, which, she said, gave her the experience she needed to work at Goldberg's firm. "As a former prosecutor, I have seen how the criminal justice system is struggling to play catch-up with society's new digital reality," said Lieberman. "I was immediately drawn to Carrie's mission and I am proud to be part of it."
---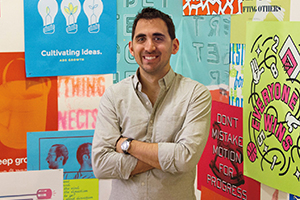 Facebook often is front and center of conversations about digital privacy. As advertising and privacy counsel for the social media giant, is on the front lines of ensuring the company complies with privacy best practices. The challenge for Rausa is the lack of a body of established laws or regulations around the world to guide him. But the ever-evolving world of digital privacy also provides plenty of opportunities for creativity, which Rausa relishes.

"In a field like privacy, things aren't as standardized," he said. "You're giving legal counsel based on the very specific nature of one company, one product, one industry, at one time. You have to consider the totality of circumstances and come up with nuanced advice that takes all those factors into account."

At Facebook, that means Rausa counsels as much on products as he does on privacy law, making recommendations for how to shape each new product so that it balances user value, revenue, and risk mitigation.

His success in this evolving field of law is getting Rausa noticed. In January, he was named to the Forbes 30 Under 30 Law & Policy list for his work at Facebook.

Rausa's first job after graduating from the Law School was at Undertone, an advertising technology company. He served as corporate counsel and senior privacy manager and worked on the $180 million sale of Undertone to Israel-based software company Perion in 2015. He credits much of his success to his experience at the Brooklyn Law Incubator & Policy Clinic (BLIP) and mentorship from Professor Jonathan Askin.

Rausa's hands-on counseling approach also requires him to cross some traditional corporate boundaries. "If, as an in-house lawyer, you are still that scary guy in the corner office and not a trusted business partner to whom colleagues are willing to come with their questions and concerns, you're not going to be able to do your job well," he said.
---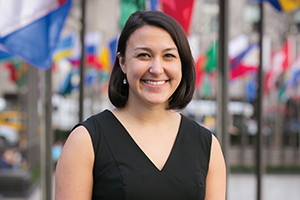 "I always knew I was never going to go into a traditional legal role; I wasn't very interested in being in court, and I was always very much a business-oriented person," said , a consultant in the cyber risk practice at Deloitte in New York City.

Tomijima's work at Deloitte involves performing risk assessments, developing strategy, and building governance programs to decrease liability for her clients in a range of industries, from pharmaceuticals to telecommunications. Most recently, she worked with the world's largest airline to build its privacy policies, procedures, and training from the ground up. This is a relatively new area of work that has evolved along with the increasing number of privacy regulations in recent years. Firms like Deloitte have focused on hiring individuals with a legal background who can quickly bring clients up to speed. The stakes are high—every data breach has major effects on a company's finances, M&A prospects, and reputation.

"What I like about this role is that I can provide direct solutions instead of just presenting the law and my opinion on it. I can do that part and then also work with clients on solutions for actually implementing regulations," she said.

Tomijima began her career in art law, advising photographers and other technology focused businesses on their digital copyrights. Her interest in IP and brand management then led her to the world of privacy and data protection, and, in 2015, to her current role with Deloitte.

"I'm constantly working with in-house and external counsel—and being seen as a peer kind of gets you a leg up," she said. "It's much easier to be able to skip the legal instruction, review contracts and policies, and provide advice and recommendations based on my own legal training and background."
The revolution will be streamed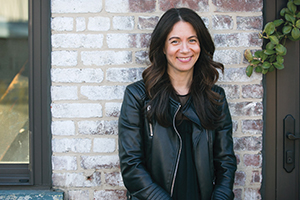 Lauren Tanen '00, director of global employment law at Spotify, the digital music streaming service, always has sought a challenge. After spending time working for the Brooklyn District Attorney during law school, she found that while she loved litigation, she was drawn more to the emerging field of compliance. So, she pursued employment law, first at Greenberg Traurig and then at Seyfarth Shaw. In 2011 she became the first in-house employment lawyer at apparel giant PVH. For the next five and a half years, Tanen worked with the general counsel to create new procedures to help PVH handle its growing workforce. Then Spotify needed the same kind of guidance.

Tanen said she relished the opportunity to work in a field that's changing so quickly and dramatically. "There's always a big focus on the people and the talent, making sure they feel like there's a net underneath them, and that they can grow and challenge themselves and develop into whatever it is they want to be within the Spotify culture," she said.

Employment issues can be unique for a 10-year-old company acting as a major disruptor of the music industry. Spotify is a much more informal environment than anywhere else Tanen has ever worked. The company's stated values—playful, collaborative, passionate, sincere, creative—reflect a mission that is very focused on teamwork and support. According to Tanen, Spotify also has an extraordinarily generous parental leave policy, and the New York office is full of music and snacks. But maintaining an environment where employees both have fun and remain top performers takes balance.

"It's all uncharted territory," she said. "Everybody is so keen on making Spotify a fantastic success that we're all driving for the same goal, and there's so much that can be done to make sure people feel supported in doing that."
---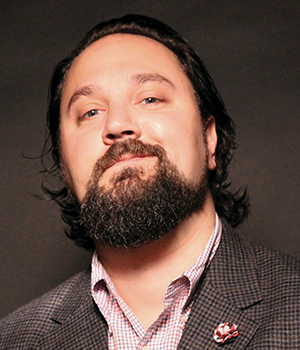 Both the law and Brooklyn Law School itself are in the DNA of , assistant general counsel and senior vice president of business and legal affairs for DEFY Media, a leader in youth-oriented media and entertainment. His father, Leonard Silverman '54, was a Court of Claims judge who served five terms in the New York State Assembly, and his brother, Joshua Silverman '00, is executive vice president of global licensing at Disney Consumer Products. Adam Silverman's career path took him to the entertainment business, having worked for a selection of early stage entertainment companies.

In 2003, he was recruited by Alloy, then an advertising, marketing, and entertainment company that needed someone with legal and intellectual property expertise. In 2013, Silverman helped lead the company through its merger with Break Media to become DEFY Media. DEFY's programming generates more than 750 million video views per month and includes some of the most popular digital brands in the world, including Break, SMOSH, AweMe, ScreenJunkies, and Clevver.

During the course of his career, Silverman has watched the evolution of digital media change the way the entertainment business works. YouTube, which made possible many of the brands Silverman now oversees, didn't exist when he first started working in the field. Today, his work focuses on protecting DEFY's portfolio of businesses and brands while helping the company continue to evolve with a market that is ever more focused on delivering media content directly to consumers.

"Some of our most popular programming, SMOSH, literally started with two hysterical and creative teenagers recording themselves, and now it's one of the most popular brands in entertainment," Silverman said. "The ability for creators to 'cut out' the middleman and go directly to the consumer is one of the most disruptive changes in the entertainment industry in at least 25 years."
Building secure brands online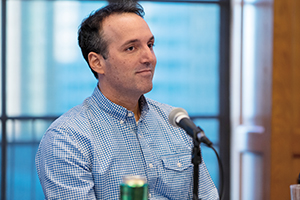 David Mitnick '00, founder of DomainSkate, a service created to protect clients' names and trademarks online, started his career in banking, but quickly realized one of his favorite parts of his job was working with attorneys to assess and mitigate risk. That led him to enroll in law school, where technology and intellectual property rights classes helped to hone his career ambitions. After graduation, he worked at Amster Rothstein & Ebenstein for the next 11 years, representing Fortune 500 companies in all areas of Internet law, including domain dispute resolutions and trademark registration. As the Internet grew, domain ownership and associate brand control became increasingly unwieldy.

"I saw firsthand as an attorney the dearth of resources to protect clients online," Mitnick said. "There were a few services that provided a list of newly registered domain names that we could review monthly, but nothing that was comprehensive or dynamic or timely. It looked like this Internet thing was here to stay, and companies were going to need some help."

His answer was DomainSkate, which he founded in 2012. The company reviews the more than 400 million registered domain names worldwide and gives clients daily customized reports to alert them if someone is using or abusing their name. DomainSkate also reviews social media handles and websites for trademark and brand abuse.

"We back this up with security profiles, screenshots, and other important information for everything we watch," he said.

Mitnick said his law degree and work at the firm were invaluable stepping-stones to his current career. "Technology is making law degrees more valuable to a lot of companies that now consider hiring law students who can demonstrate expertise," he said. In fact, he added, "there's an industry bias toward attorneys with a law firm pedigree."
---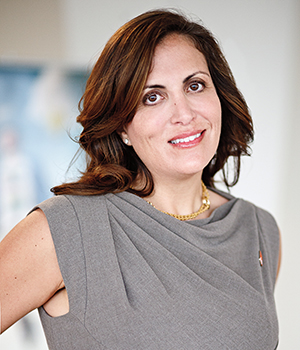 "As a lawyer and an HR person, something I learned early on is that you want to look to the future and always be studying what's happening next," said , vice president of registry solutions at Neustar, which provides real-time information services for the Internet, telecommunications, entertainment, and marketing industries, among others.

In the late 1990s, after five years practicing law at Proskauer Rose with a focus on the Employment Retirement Income Security Act (ERISA), Wardi wanted to apply her skills more directly to the lives of clients and organizations, so she moved into the world of human resource management. At the time she had no way of knowing that her love of developing management strategies and leadership trainings at firms like Goldman Sachs would come in handy in her future career as an Internet entrepreneur.

Her instincts were particularly prescient when it came to social media and the increasing value of Web domains. Wardi was building a following as a human resources consultant when the terrorist attacks of Sept. 11, 2001, slowed the consulting industry for several years. In her efforts to find a new career opportunity, she entered the nascent market for Web domains. She amassed a large collection of domain names for future business ventures she thought she might one day launch. Unbeknownst to her, the domain names themselves soon became her business venture of choice.

She eventually became deeply involved in the creation and evolution of the .CO domain extension, and was cofounder and vice president of .CO Internet, helping introduce many of the biggest companies in Silicon Valley to the .com competitor.

"We wanted the letters at the other side of the dot to mean something," Wardi said. "We went out to incubators, accelerators, coworking spaces, and startup communities worldwide to introduce them to .CO, and we made it very easy for them to build their next great business ideas on .CO domain names."

Today, at Neustar, which acquired .CO three years ago, Wardi and her team are poised to take advantage of the domain rule change by the Internet Corporation for Assigned Names and Numbers (ICANN) that opened up hundreds of new domain extensions, including city domain extensions such as .nyc. For the past two years, Wardi has been leading the effort to make New York City's .nyc domain extension the premier city domain in the world. She's also working with world-leading brands to bring them the opportunity to develop their own domain ecosystems, such as .Virgin, .Nike, and .Chase.
Riding new waves of regulation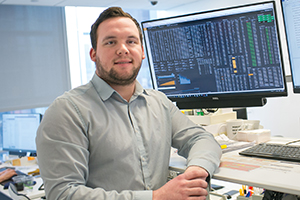 Andres Trujillo '16 began his career with IEX, the Investors Exchange with a late-night message to the company's COO, John Schwall. Then still a student at the Law School, Trujillo already had connected with Schwall and CEO Brad Katsuyama on LinkedIn after reading Flash Boys: A Wall Street Revolt by Michael Lewis, which heavily features the company. After externships at Windels Marx Lane & Mittendorf and the Securities and Exchange Commission left him feeling restless, Trujillo reached out to Schwall on a Friday evening.

"To my surprise, 20 minutes later he got back to me," Trujillo said. "He asked, 'What do you think you'd be good at?'"

IEX first took Trujillo on as a part-time compliance analyst while he was still in law school. At the time, the firm was operating as a so called "dark pool," or off-exchange marketplace on which investors can make trades anonymously. Trujillo assisted with broker-dealer compliance while IEX worked on gaining approval from the SEC to operate a national securities exchange, which it received in June 2016. The next month Trujillo transitioned to his current role as regulatory associate.

"Any time we're offering new functionality or a new product, we must amend the rulebook and get SEC approval," he said. "It's an interesting dynamic of figuring out how to leverage the law to advance products."

IEX recently applied to amend its rulebook to enhance an order type offered to traders, and Trujillo was involved in filing the rule with the SEC to amend the way this order type operates.

"It's been extremely interesting, because the laws are notorious for not having bright lines, but tech is generally binary," Trujillo said. "We have to find a way to take this world of binary and fit it into this elastic world of the law."
---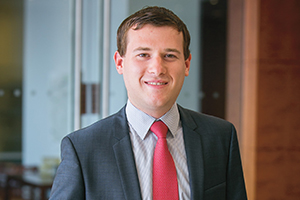 When graduated from college, his plans to go into the banking industry were derailed by the global financial crisis. But the historic crisis, and the slew of new laws and regulations enacted as a result, would prove to be the foundation for his career today as senior associate in the financial services regulatory practice at PricewaterhouseCoopers LLP.

"Financial regulation as we know it today has been around since the Great Depression, but following the financial crisis we probably went through the largest period of rulemaking for the industry in modern times," he said. "The area has expanded a lot, creating a need for regulatory professionals at institutions like ours and at the banks themselves."

Akkerman advises domestic and foreign financial institutions on some of the most complex recent financial industry laws and regulations, such as the Dodd-Frank Wall Street Reform Act and rules issued by the Consumer Financial Protection Bureau, in addition to traditional corporate and banking law matters.

Not only are there more new regulations than ever, but regulators have significantly stepped up enforcement of existing rules, Akkerman said. PwC is one of many firms that has increasingly hired individuals with law degrees to help clients navigate through the thicket of new regulations.

Akkerman puts both his financial and his legal experience to work each time the federal government issues a new law, regulation, interpretive letter, or feedback, requiring him to analyze and determine the impact to clients.

"My law school training really helps me be able to read and interpret rules and think creatively in helping clients meet requirements and writing those resolution plans," he said.
Starting up the new economy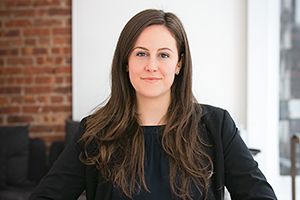 Brooklyn Law Notes Spring 2017"Meal kits have brought major change to the traditional food industry," said , associate general counsel and director of legal and compliance at Plated, one of a handful of young companies in the burgeoning meal kit delivery business. "As an in-house attorney in the industry, it's exciting to be a part of this new segment that is disrupting the traditional food system and offering a new way for people to enjoy dinner at home."

Launched in 2012, Plated delivers recipes and pre-portioned ingredients and recipes to customers' doors so they can cook and share meals more easily. Wilson joined Plated in October 2015 after serving as assistant general counsel for the sports card and candy company Topps, maker of the iconic baseball trading cards. There, she focused on transaction work, privacy issues, and compliance for the food side of the company. Plated faces some distinct opportunities and challenges thanks to the highly competitive market and the company's business model. "Plated is a unique company in that it combines food and tech," Wilson said. "But the issues that come up are like those faced by other companies in the space."

Plated's culture mirrors other startups with a fast-paced but casual office environment in an open loft in New York City's Flatiron neighborhood.

But underneath the jeans and smartphone apps, Plated is just like any other company in need of a good in-house lawyer. Wilson calls herself a generalist, supporting the business in many capacities, including transactional review, advertising review, regulatory and compliance issues, food matters, and privacy.

"For the legal industry it's an unusual position, and that's been an interesting change for me," she said.
---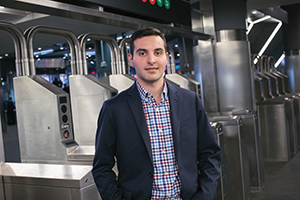 After studying in Italy during his college years, was inspired by what could be done with public transit, and how Europe's approach could be exported abroad. He decided to look to his own backyard, thinking up innovative new ways to improve the New York City subway system, which is one of the busiest in the world, offering round-the-clock service. He imagined a smartphone-based service that would make it easier to pay for and use a MetroCard.

"I thought someone would have done this already if the technology existed," he said. Kopel decided to create that technology himself and make it compatible with all smartphones. He didn't know how to code, nor did he know anyone who did. So when Michael DeVitto, then vice president and program executive for fare payment programs at the MTA, visited the NYC Transit Museum just a few blocks from the Law School in 2014, Kopel made sure to share his idea.

"He was not negative, so that told me I should pursue it," said Kopel, who has since launched Waltz, a company producing software and hardware for secure access for both transit and real estate that uses smartphone apps. In March, he hired DeVitto as chief strategy officer. Waltz currently has two pilot products. The transit service allows users to manage balances and make fare payments through an app that communicates with Waltz-made hardware at turnstiles and on buses, trains, and ferries. The real estate app allows building managers to create security profiles for individual tenants across multiple buildings, improving on existing security and communication methods. The app would allow individuals visiting secure buildings to enter without having to sign in at a security desk, for example.

The company has been fundraising and has secured funding from Outfront Media, one of the largest outdoor advertisers in the country, which just happens to have been cofounded by fellow graduate—and business visionary—William Levine '54 (see Brooklyn Law Notes, fall 2015). Kopel, who was inspired by classes with Professors Minor Myers and Steven Dean, says his law degree helped rethink the way he addresses issues, allowing him to approach every part of the entrepreneurial process with more confidence.
---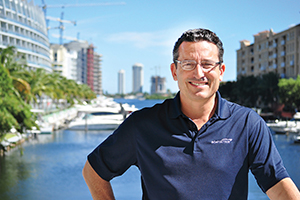 More than two decades as an attorney and entrepreneur led Andy Sturner '90 to his latest venture, Boatsetter, an Airbnb-style boat rental service.

Though he always had an entrepreneurial spirit, before starting his first company Sturner practiced bankruptcy and reorganization law at Stroock & Stroock & Lavan. About a year into his time there, he teamed up with two fellow Brooklyn Law School graduates— his wife, Sherry Studnik Sturner '90, and Aaron Fruhling '90—to launch Interactive Services, which provided restaurant information by phone—this was years before Yelp or OpenTable— in the same way Moviefone did at the time for movies. Moviefone soon purchased the company, and Sturner was brought on to help take Moviefone public. Then, in 1995, he and his family decided it was time to move south, where he met the founder of Sportsline.com and helped to launch that early web business. Just prior to CBS buying Sportsline, he had a short-lived retirement before discovering an unexpected industry ripe for new ideas: marinas.

Sturner founded a marina-focused private equity firm, Aqua Marine Partners, based in Aventura, FL. The industry took a hit from the Great Recession, but Sturner's previous legal experience gave him an important advantage in avoiding too much economic damage, and that portfolio is thriving to this day. In 2010, in his capacity as cofounder of Miami-based Accelerated Growth Partners, Sturner met an entrepreneur with an idea for "the Airbnb of boats."

"Most boat owners were baby boomers, and the marina industry wasn't engaging with millennials," Sturner said. "So I took my technology experience and leveraged what Airbnb and Uber had done with the sharing economy to create Boatsetter."

The company, which Sturner cofounded, officially set sail in May 2015. It operates as a platform company, connecting boat owners, boat captains, and anyone looking for an experience on the water. The business is a much different endeavor from Sturner's beginnings at Moviefone, a company many millennials have likely never heard of. But he credits his success to his ability, both legally and entrepreneurially, to adapt to changing tides.