Brooklyn Law School graduates are lighting up New York City's entertainment industry—from music to television to film.
Story: Andrea Strong '94 | Photography: Ron Hester
Long considered a global cultural capital, New York City in recent years has been experiencing a renaissance in the music, film, and television industries. In 2015, more than 46 episodic television series, such as Girls, The Americans, The Good Wife, and Law & Order, and 336 films, including Brooklyn, Bridge of Spies, and The Intern, were shot on locations around the city—including the Law School— generating at least $8.7 billion for the local economy. Brooklyn, in particular, has become an increasingly popular home for movie and television studios, as well as live music, creating thousands of job opportunities.
Brooklyn Law School is right at center stage in New York as well as in Hollywood, and was recently ranked number 10 on The Hollywood Reporter list of "Top 12 Entertainment Law Schools." The Law School's vast and strong alumni network in the entertainment world from coast to coast includes the six leaders profiled here, all working in New York City at powerhouses like the Mayor's Office of Media and Entertainment, HBO, BET Networks, Universal Music, ASCAP, and Barclays Center
"Brooklyn was my first choice because of its reputation in entertainment law," said Keith Bloyd '16, co-president of the Brooklyn Entertainment and Sports Law Society. "The school does a phenomenal job of preparing students to excel in what has become one of the most competitive industries in the world."
Nicole George-Middleton '01
SENIOR VICE PRESIDENT OF MEMBERSHIP
ASCAP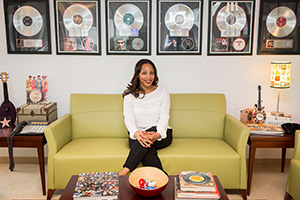 In 2011, Nicole George-Middleton '01 (left) was named one of Billboard magazine's "Top 40 Women in Music," and it's easy to see why. As senior vice president of membership at the American Society of Composers, Authors and Publishers (ASCAP), George-Middleton has worked with some of the group's top talent, including Drake, Kendrick Lamar, Jay Z, and Usher. She advocates for the musicians' interests, develops creative partnerships, puts songwriters together with producers, hosts workshops and events, and connects emerging artists with mentors.
"My job is to promote and nurture everyone in our organization, from developing songwriters to accomplished composers like Ne-Yo," she said.
George-Middleton has spearheaded a number of initiatives for ASCAP's more than half a million members, including a lunch series called "Break Bread" that invites songwriters to participate in jam sessions at its offices in New York City, Los Angeles, and Atlanta.
"We were hearing that our members want to spend time with other artists," she said. "They come here to have fun and just vibe and play and eat lunch. It's been amazing."
She and her team are also responsible for creating ASCAP's annual "Women Behind the Music" event, which celebrates women in music during Breast Cancer Awareness Month in October, and "Check It Out" events, where the organization rents space for songwriters to play their music in front of studio heads and industry heavyweights. The idea is to give ASCAP members more opportunities to get their music in front of important audiences. Even if it doesn't result in a strategic partnership, the writer receives helpful feedback and benefits from having a broader network of contacts.
George-Middleton, who holds a bachelor's degree in psychology from the University of Pennsylvania, began thinking in on negotiations with artists and to help draft their contracts. After graduating, she joined what was then known as Woods & Middleton, a small boutique entertainment firm (now the Middleton Law Group), where she spent seven years representing talent like DMX, Kelly Price, and Foxy Brown. "The work allowed me to form strong relationships in the entertainment industry and build my knowledge of copyright law and issues facing songwriters and artists," she said.
Returning to the label side, she joined the RCA Label Group's Jive Records in house as director of business and legal affairs. For three years, she negotiated recording agreements and music publishing agreements. Then in 2008, ASCAP recruited her to join its urban rhythm and soul department, largely because of her legal training and the strong relationships she had built in the music industry.
"Music is the soundtrack to life," she said. "At ASCAP, we want people to enjoy it, and we want to make sure that writers and musicians are properly compensated for it."
Daniel Getz '95
SENIOR VICE PRESIDENT FOR BUSINESS AND LEGAL AFFAIRS
Universal Music Group, Republic Records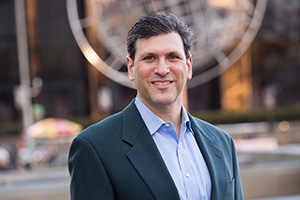 "I don't sing or play instruments very well myself, but I've always been a music lover," said Daniel Getz, senior vice president of business and legal affairs for Republic Records at Universal, the largest U.S. music company. "After law school, I worked hard to build up my credentials so that I would be ready when the right job came along."
That job certainly came along for Getz, who now negotiates and drafts contracts in connection with some of the biggest names in the music business—including Nicki Minaj, The Weeknd, Zac Brown Band, Jessie J, and the recent winner of The Voice Jordan Smith. He received his bachelor's degree in literature and economics from the University of Michigan, then attended Brooklyn Law School as the first step toward a career in entertainment law. Following graduation, he held a variety of jobs including managing bands and working with record companies, while always trying to network and make connections in the industry. In 1998, he landed his "first legit gig," representing artists and companies at the law firm of Leibowitz, Roberts & Ritholz, where clients included NSYNC, Lisa Loeb, and the New Kids on the Block.
Getz relished his time at the firm, but an opportunity presented itself that seemed too good to pass up: He was offered the position of general counsel at a startup called Music Vision, which handled advertising and representation for website publishers in the music and entertainment world. Unfortunately, the company folded a couple of years later during the first Internet crash, but that cloud had a silver lining: Universal hired Getz in 2002 as the junior lawyer in the Universal Motown Republic Group. Today, he manages the negotiation and structuring of deals with major talents on the Republic label.
Having been in the business for more than 20 years, Getz has seen a dramatic transformation of music technology, from CDs to the streaming trend that currently dominates how people purchase and listen to songs. It hasn't been an easy storm to weather, but Getz is optimistic.
"I've watched the industry shrink from a $14 billion business to around half of that, as technology and the Internet allowed albums to be disaggregated from downloads of singles," Getz said. "Now I think we're seeing more people purchase streaming subscriptions, which is leveling out revenues for artists and their labels. It may be a real savior for the industry."
He advises young lawyers with a passion for music to get traditional legal experience and to be aware of key players in the entertainment world. "The music business is always changing, which makes it interesting and challenging," Getz said. "To succeed, it's critical to be thoughtful and dynamic."
Anne del Castillo '11
CHIEF OPERATING OFFICER AND GENERAL COUNSEL
New York City Mayor's Office of Media and Entertainment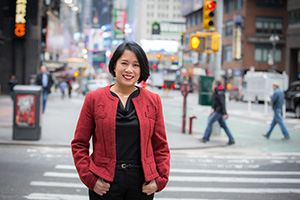 "Our city is the backdrop for some of the most iconic moments in cinema history; our streets and skylines are coveted around the world," said New York City Council Speaker Melissa Mark-Viverito.
A key force in making the city such a vibrant hub for movies and television shows is Anne del Castillo '11, chief operating officer and general counsel of the New York City Mayor's Office of Media and Entertainment (MOME). The agency supports the filmed entertainment industry, which contributes nearly $9 billion annually to the local economy.
Del Castillo oversees MOME's operations, including policy development and strategic initiatives. With a staff of nearly 80 people, MOME comprises two divisions: the Office of Film, Theatre, and Broadcast, which manages all production activity throughout the five boroughs, and NYC Media, the city's official broadcast network and media production group. MOME also supports a number of industry development initiatives, such as the "Made in New York" Marketing Credit Program, which promotes New York City–based film and television projects, and the "Made in NY" Production Assistant Training Program, which has already prepared more than 600 New York residents for careers in film and television.
"As a born-and-bred New Yorker, I just love this city and all it has to offer. It's extremely rewarding to know that every day, I get to go to work and help find ways to sustain our city's role as a true creative capital," Del Castillo said. "By supporting content development, production innovation, and investment in industry, we are creating more and more opportunities for New York City residents in media and entertainment."
Del Castillo brings to her position more than 20 years of experience in media and the arts, focusing on film production, fundraising, business development, and legal affairs. After receiving dual bachelor's degrees in English and mass communications from Boston University, she began her career in film and television. She got her start at the Independent Feature Project and went on to work with some of the most prestigious producers at PBS: Sesame Workshop, American Masters, and Frontline. Del Castillo later moved to Austin, Texas, where she worked for the Austin Film Society and was part of the task force that developed the Austin Studios. Upon her return to New York in 2002, she joined American Documentary, producers of the acclaimed PBS series POV, where she oversaw fundraising and business affairs.
It was during her tenure at American Documentary that Del Castillo realized just how much she enjoyed the business aspects of her job, and she decided to pursue a law degree. Del Castillo
enrolled as a part-time student at the Law School, taking classes in the evening, while working full time as vice president of development and business affairs for American Documentary during the day.
"It was a bit of an adjustment returning to school after being in the field for 15 years," she said. "But ultimately I think I got more out of it. I truly value the education I got at Brooklyn Law. I got to learn from some of the best and brightest minds in the legal field."
She took a break from media to work as head of development at the 14th Street Y, before she was recruited to join MOME in 2014. Looking ahead, one of Del Castillo's priorities is ensuring that New York City's media endeavors continue to embrace diversity and inclusion.
"As a child," she said, "when I saw shows with diverse characters in urban settings, like Sesame Street or The Electric Company, I felt a connection, a recognition of sorts that my experience was valuable enough to be reflected on TV. While advancements have been made, we still have a long way to go for media to truly reflect the depth, breadth, and richness of human experience in all its forms. We live in one of the world's most culturally rich and diverse cities. With the recent expansion of MOME's portfolio that now includes music, digital content, and advertising, I am looking forward to maximizing opportunities for more New Yorkers to participate in the evolution of media and entertainment in the city. In doing so, we will move the industry forward in a more inclusive and meaningful way."
Keith Sheldon '07
SENIOR VICE PRESIDENT OF PROGRAMMING
Brooklyn Sports & Entertainment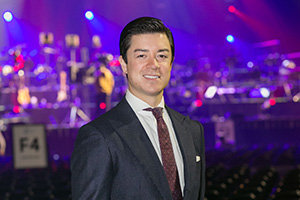 Bruce Springsteen. Stevie Wonder. Rihanna. Ed Sheeran. Justin Bieber. The Rock and Roll Hall of Fame Induction Ceremony. Today they are among the major performers and events hosted by Barclays Center in Brooklyn—and Keith Sheldon '07, senior vice president of programming for Brooklyn Sports & Entertainment (BS&E), has been instrumental in bringing them to the stage. In fact, he's done his job so well that Pollstar magazine last year ranked Barclays Center number two nationally and in the top 10 in the world based on concert and entertainment ticket sales.
"I think we've done a great job of creating a cool vibe at Barclays Center, which makes it an aspirational place to play for up-and-coming artists, and one that established artists view as a key stop on their tour," Sheldon said.
"Keith is a star himself in the world of major venue entertainment programming," said Jeff Gewirtz '94, executive vice president of business affairs and chief legal officer for the Barclays Center, Brooklyn Nets, New York Islanders, and Nassau Coliseum. "In addition to his wide network of key contacts in the music industry, Keith is a tactical negotiator and understands what will move business objectives forward. His legal training really sets him apart from other programming executives, particularly when it comes to complex booking transactions."
We're focused on continuing to put Brooklyn and Barclays on the map."
Sheldon joined BS&E in 2014, after nearly a decade of working in the events arena. He started his career with AEG, one of the world's leading sports and entertainment presenters, working in business and legal affairs at the XL Center, an 18,000-seat venue in Hartford, Conn.
"We weren't in a 'must-play' market," he said. "So I did a lot of hustling, looking for unique content opportunities and getting to know promoters, agents, and managers."
From there, AEG transferred him to Louisville, Ky., where he ran events for the 23,000-seat KFC Yum! Center. "That venue was set up for major events, in a prime location on most musicians' tour routes, so it opened my eyes to a different subset of the business," Sheldon said. "I learned about what your space can do for an artist's brand identity. So much of my job now is about making deals, so I really focus on relationships and building bridges with the entertainers. My priority is to make the content providers happy, while always considering the company's bottom line."
Sheldon is also excited about other projects in the BS&E pipeline, including the historical LIU Brooklyn Paramount Theatre with an opening slated for 2019; the reimagined Nassau Coliseum set to reopen within a year; and The Amphitheater at Coney Island Boardwalk, a new 5,000-seat covered amphitheater scheduled to open this summer. He credits the organization's growth to the vision of Brett Yormark, CEO of BS&E.
In his own capacity to further drive business at each of the BS&E properties, Sheldon works closely with a 40-member advisory board, which features some of the most influential executives in sports, entertainment, arts, and media. He also manages a Los Angeles office that mines content relationships on the West Coast.
"It's great to get other perspectives about what live events people want to see," said Sheldon. "We're focused on continuing to put Brooklyn and Barclays on the map—nationally and internationally."
Nneka Norville '01
DIRECTOR OF CORPORATE SOCIAL RESPONSIBILITY
BET Networks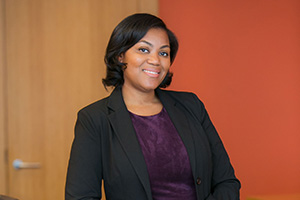 With the U.S. presidential election campaign in full swing, Nneka Norville, the director of corporate social responsibility at BET Networks, is focused on engaging her audience. Leveraging the strength and reach of BET's brand, she has developed a national initiative—as she has done in past election years—to empower voters with valuable tools and resources. BET VOTE cuts across the network's portfolio, including an on-air PSA, a custom website, and complementary messaging on social media platforms, amplifying the reach and impact of these important calls to action.
"As in a traditional marketing campaign, every place our audience engages with us, they will see our messaging about the importance of voting," Norville said.
This is just one example of Norville's work at BET. For the last eight years, she has leveraged the brand's content, platforms,and employees for social good. She serves as a liaison to community, business, and government organizations. She develops mentorship and volunteer programs. She manages public service campaigns, including one related to the recent water crisis in Flint, Mich.; education initiatives, such as BET Next Level, which promotes dropout prevention and diversity in science, technology, engineering, and math (STEM); and programs highlighting health disparities including BET Goes Pink, which promotes women's health through breast cancer awareness.
Norville has received several awards for her dedication to cause marketing and corporate philanthropy. In 2015, Women in Cable Television named her a rising leader and the Network Journal Magazine included her as one of its "40 Under Forty Achievers." In 2008, O, Oprah Winfrey's magazine, honored her as one of its "80 Leaders in Training."
Norville has spent most of her professional career in the entertainment industry. After receiving her bachelor's degree in communications and marketing from Boston University, she worked in public relations at Sony Music Entertainment before coming to Brooklyn Law School. Norville enrolled in law school to help her develop skills in research, writing, and public speaking that would benefit her career in the long term.
"I felt that with a law degree I could do anything and it would make me more marketable," she said.
After graduating, she practiced entertainment law briefly before pursuing her passion for social good. She managed corporate sponsor relationships for the nonprofit LIFEbeat, an organization dedicated to using the power of music industry celebrities to inform young people about HIV/AIDS and wellness. In 2005, she won the National Urban Fellowship (NUF) award, which offers a 14-month academic and leadership development experience in the public sector. Through NUF, Norville earned her MPA from the Bernard M. Baruch School of Public Affairs and worked with the David and Lucille Packard Foundation, a $1 billion family foundation focused on global education, reproductive rights, and environmental sustainability. At Packard, Norville supported the head of communications with domestic and international grantmaking as well as grantee communications strategy.
"I was able to travel to Addis Ababa, Ethiopia, and help rebrand a communications strategy for a national health program," she said. "It was an incredibly rewarding experience."
In 2006, Norville was hired as a program officer in the entertainment media partnerships division at the Kaiser Family Foundation. In this role, she managed campaigns with publicand private-sector partners such as Viacom, BET, CBS, FOX, Univision, and the NBA to leverage brand equity for social good. In 2008, BET Networks recruited her to join its corporate social responsibility team.
Norville takes seriously her responsibility at BET. Recently, she worked with producers of the hit BET show Being Mary Jane, to address a storyline in which a character commits suicide. Norville put together a campaign that included suicide prevention information embedded in the show, as well as suicide prevention hotline information on screen at the end of the episode. She also hired a psychologist do a live Twitter chat during and after the show, highlighted facts about suicide on all BET social media platforms, and engaged talent from the show to leverage their social media for the same messaging. The result? The partner for the episode, the American Association of Suicide Prevention, reported a 50 percent increase in web traffic, a 60 percent increase in hotline calls, and a 45 percent increase in followers on its Instagram account.
"I feel so fortunate to have this role," she said. "It's rewarding to engage with our audience beyond entertainment and help move issues forward in an innovative way."
Meeka Bondy '94
SENIOR VICE PRESIDENT OF LEGAL AFFAIRS
HBO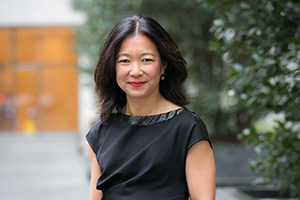 Meeka Bondy, senior vice president of legal affairs at HBO, has had a front-row seat to the television industry's dramatic change from network cable TV to multiple—and multiplying— platforms like Netflix and Hulu for original television content. Throughout her career, she has worked at the center of disruptions in media and technology.
"The TV business is still going through a lot of change now," Bondy said. "There's talk about whether Internetdelivered content cannibalizes the core business, but I think that you have to put it all out there and see how consumers react. There was a time when HBO was the only one doing original content, but now so many people are in the game. We are in the golden age of television."
Bondy has worked with HBO for more than a decade, joining the company as senior counsel in 2004. Her role at that time focused heavily on film acquisitions that pushed the boundaries of technology. She worked on the first wireless mobile content deal with Cingular wireless, for example, and executed the first international wireless deal with Vodafone.
Today, she is responsible for HBO's global licensing business, licensing of original HBO programming to networks in other countries, and the licensing of HBO library collections to Amazon Prime. She also manages corporate services, real estate, facilities, vendor relations, research, and foreign regulatory matters such as the European Union's Digital Single Market reforms.
We are in the golden age of television."
"We only license earlier seasons of shows, not the current seasons," she said. "We want to expand access to our programming while being mindful of our own subscribers and our own bottom line."
Bondy, like George-Middleton, received her bachelor's degree in psychology from the University of Pennsylvania before enrolling at Brooklyn Law School. An involved student at the Law School, she served as the president of the Asian American Law Students Association (AALSA) and as executive editor of the Brooklyn Journal of International Law. She also met and later married classmate Joseph Bondy '94, a well-known criminal defense attorney, with whom she has three children. After graduation, she spent several years at a computer and technology law firm before joining the new media group at Time, Inc., as associate counsel in 1998.
Hooked on the entrepreneurial side of the media business, Bondy jumped at a chance to join Time Warner Interactive Video Group in 2002, acting as general counsel for Mystro TV. The main initiative there was to develop and commercialize on-demand cable television service. Her team also developed a service that would sell interactive advertising and collect data (within the boundaries of privacy law) on viewers' watching habits and then sell it back to programmers.
In 2011, HBO selected Bondy to attend the Women in Cable Telecommunications (WICT) Betsy Magness Leadership Program, a group of 27 women leaders from across all areas of the cable industry. She attended five sessions starting at the Center for Creative Leadership on work-life topics such as how to manage your time, stay energetic, manage a team, deal with crisis at work, and develop a personal brand.
"The program changed the way I approached my job," she said. "It helped me correct my blind spots, things I never saw in myself. In addition, I now have a group of women who I can
count on and learn from."
Bondy continues to attend the WICT's annual Betsy Magness Graduate Institute. "We discuss things like how to inspire others, and that makes work more meaningful," she said. "It's not just about writing a contract, it's being able to negotiate well and involve people so they feel like they're part of something. You can't just sit in a room and work. You have to learn to lead."