Wanda Denson-Low '81 addressed new students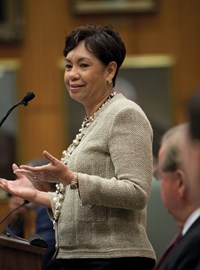 Brooklyn Law School Welcomed 393 new students on August 21 at the annual Convocation Ceremony, held in the Ceremonial Courtroom at the U.S. District Court for the Eastern District of New York. Vice Dean Steven Dean served as master of ceremonies for the event, which also featured remarks from Giancarlo Martinez '18; Hon. Robert A. Katzmann, chief judge for the U.S. Court of Appeals for the Second Circuit; Wanda Denson-Low '81, vice chair of Rensselaer Polytechnic Institute Board of Trustees; Professor David Reiss; and Dean Nick Allard.

The incoming class includes 29 members of the 2-Year Accelerated J.D. Program, 310 members of the traditional 3-Year Program, and 32 members of the extended 4-Year Program. The LL.M. program welcomed 2

2 new students from 20 countries.

The new students join the Law School community with an array of impressive backgrounds: they are athletes, entrepreneurs, teachers, philanthropists, and Army veterans, to name just a few of their accomplishments.

Martinez shared the three best pieces of advice he had received when beginning his own legal education: "Be focused, get involved, and stay true to yourself." Denson-Low, who previously served as senior vice president for the Office of Internal Governance at Boeing and general counsel of Boeing Defense, spoke about how she came to the Law School hoping to work for Legal Aid, but ended up on a very different path. "Don't assume the law firm is the only vehicle for you," she said.

Allard closed the ceremony with a call to action during this pivotal moment in history. "Lawyers are needed more than ever before," he said.

Watch a video of the ceremony here.