Citywide Art Installation Comes to the Courtyard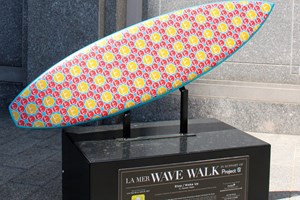 The Brooklyn Law School courtyard at 250 Joralemon St. recently became the home of two sculptures—a circular wave and a surfboard—that were part of a temporary art installation around New York City celebrating U.N. World Oceans Day and highlighting efforts to protect the oceans. The citywide exhibit was known as the La Mer Wave Walk and was sponsored by the beauty brand La Mer and ocean conservation organization Project 0.

The sculptures, by Chen Man and Hassan Hajjaj, joined 52 others on display at locations across the five boroughs, including at the World Trade Center Oculus, the Intrepid Air & Space Museum, and Rockefeller Center. The sculptures were installed in May in time for World Oceans Day on June 8.

The surfboard sculpture by Hajjaj, titled "Stop/Wake Up," was inspired by the artist's desire for people to "join the movement to help our oceans." The circular wave by Man is titled "The Elements" and was inspired by the five fundamental elements of wood, fire, earth, metal, and water, according to the artist.

When the exhibit ended, the sculptures were auctioned, with all proceeds benefiting the La Mer Blue Heart Oceans Fund for Project 0. The fund benefits marine-protected areas such as the Azores, the East China Sea, and mangroves in the Caribbean.
Entrepreneurship Club Assists Local Food Startups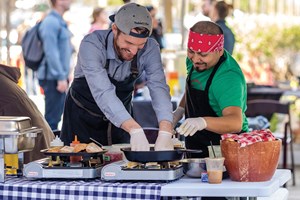 In April, the Brooklyn Law School Entrepreneurship Club held its third annual Legal Eats event, transforming the courtyard at 250 Joralemon St. into a food market. Open to students, faculty, and staff members of the Law School, Legal Eats gave local food entrepreneurs the opportunity to share their creations and get free legal consultations and referrals to student clinics. Legal Eats is part of a larger mission of the Center for Urban Business Entrepreneurship (CUBE) aimed at creating a hub for exploring legal issues around entrepreneurship and providing effective legal representation and support for new commercial and not-for-profit businesses.
Race Judicata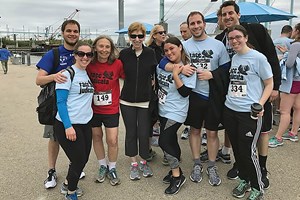 Brooklyn Law School participated in the 11th annual 5K Race Judicata in Brooklyn Bridge Park in April, helping to raise more than $10,000 to support the Urban Assembly School for Law & Justice. Professor Maryellen Fullerton (in red) poses with the family of the late Professor Barry Zaretsky, who was an avid runner and in whose honor the race is run. His wife Joan Glatman (in black) and children Ari Glatman Zaretsky, Joseph Glatman Zaretsky, and Tamar Glatman Zaretsky, attended the race along with students, alumni, and other faculty members.