Law School Launches Center for Criminal Justice
The Brooklyn Law School Center for Criminal Justice was launched this year to serve as a dynamic center for critical conversations, education, and sharing of expertise on the most vital issues and topics in criminal justice law and policy today.
The center builds on the existing strengths of the Law School's nationally recognized criminal law faculty and the thousands of graduates practicing in the field in New York City and around the country.
Under the direction of Professors Stacy Caplow and Jocelyn Simonson, the center sponsors speakers and events, awards student fellowships, and provides CLE opportunities for attorneys practicing in the area of criminal justice.
"The center allows us to build on the incredible strengths of our faculty in this field, and our history of producing lawyers— both prosecution and defense—as well as judges who devote their careers to criminal justice," Caplow said. "We hope to build more bridges to both the community of scholars and practitioners who think about, and those who work on, the never-ending complex issues related to criminal justice."
This fall, the center is hosting several important programs, including a full-day CLE program on criminal law, procedure, evidence, and ethics that honors the legacy of the beloved late Professor Robert M. Pitler. Other programs include an event with Professor Heather Ann Thompson of the University of Michigan, author of Blood in the Water: The Attica Prison Uprising of 1971 and Its Legacy, which has been nominated for the 2016 National Book Award; and a conversation with Hon. John M. Leventhal '79 and Professor Liz Schneider on the domestic violence crisis. Leventhal is author of My Partner, My Enemy: An Unflinching View of Domestic Violence and New Ways to Protect Victims.
The center also has awarded the Robert M. Pitler Post-Graduate Fellowship for 2016 to 10 graduates who have worked at public criminal justice organizations for at least five years and are committed to remaining in this field for at least two more years.
The recipients are: Lindsay B. Ashwal '06, Keith Baumann '07, Vincent Louis Bocchetti '10, Nora Christenson '07, Leila Hull '09, Victoria A. Levin '08, Brooke K. Schiferle '09, Brendan P. Tracy '10, Jason Trager '10, and Katie Dee Wasserman '08.
Under the direction of Simonson, four students will be awarded fellowships to work with the Brooklyn Bail Fund, where they will commit to working in a structured setting for at least one year as Pretrial Justice Fellows. Valerie Casali '17, Christine Einerson '18, Edward Ray '17, and Robert Zitt '17 were chosen as Criminal Justice Fellows to support the activities of the center, including assisting the Criminal Law, Procedure, Evidence and Ethics program. In addition to Caplow and Simonson, faculty affiliated with the new center include Professors Miriam Baer, Bennett Capers, Cynthia Godsoe, Susan Herman, and Adam Kolber.
Scholars Consider the Post-Carbon Future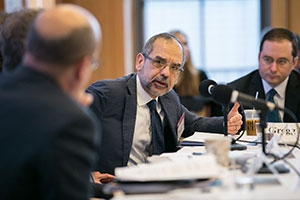 In February, renowned legal scholars and social theorists gathered at the Law School to discuss the urgent issue of climate change and the specter of a post-carbon world as part of the David G. Trager Public Policy Symposium "The Post-Carbon World: Advances in Legal and Social Theory" sponsored by the Brooklyn Law Review.
Vice Dean William Araiza (pictured above) welcomed participants and audience members, emphasizing that the annual Trager Symposium is a special event at the Law School that "furthers our core mission, which has guided our law school in its first hundred years: legal work and scholarship in the public interest."
Professor Gregg Macey who organized the full-day symposium, framed the issues that would be considered by the distinguished panelists.
"As much as the green energy transition promises at least a partial answer to the climate crisis, we should be wary of such claims," he said. "There is no simple transition, there is no easy fix." That fact became clear as panelists presented their ideas and research throughout the day.
As much as the green energy transition promises at least a partial answer to the climate crisis, we should be wary of such claims,"
The panels covered how "decarbonizing," or transitioning away from fossil fuels and toward zero-carbon sources of energy, can cause its own unique political, environmental, and economic problems that decision makers should not ignore; systemic approaches to the durability and susceptibility to change of the energy system; how energy law can act as a disruptive force in the industry; how the use of so-called smart grids and smart meters might impact future energy systems; and the barriers to mobilizing grassroots support for a post-carbon world.
The day concluded with a roundtable discussion that involved all panel participants, who outlined a cross-disciplinary research agenda.
The symposium honors the late Honorable David G. Trager, who was a U.S. District Court judge for the Eastern District of New York for more than 10 years and served as dean of Brooklyn Law School from 1983 to 1993.
The Future of the First Amendment
In February, Brooklyn Law School welcomed distinguished scholars and commentators to campus for a full-day symposium, "Free Speech Under Fire: The Future of the First Amendment." Sponsored by the Journal of Law and Policy and organized by Professors Joel Gora and Andrew P. Napolitano, the event included panels on hate speech, money and speech, corporate and commercial speech, surveillance and speech, and the future of free speech at large.
"For free speech, it is the best of times and it is the worst of times," said Gora, a nationally recognized expert on the First Amendment and campaign finance law. "It is imperative that the Supreme Court continues to make it quite clear that free speech must be the rule and government censorship the rare exception."
Occurring less than two weeks after Justice Antonin Scalia's sudden death, keynote speakers drew attention to the U.S. Supreme Court. While extending free speech protection on a number of fronts, the Roberts Court has also drawn fire from critics who contend that the decisions are inconsistent with the democratic and egalitarian purposes of the First Amendment.
There is nothing new about freedom trumping safety,"
"For free speech to thrive, there must be, at some level, restraint and tolerance," said Dean Nick Allard in his introductory remarks. "Where that line should be, and how it is judged and enforced, is what we will be considering at this promising symposium."
"There is nothing new about freedom trumping safety," said Napolitano, a distinguished visiting professor at the Law School and a senior judicial analyst for Fox News, who spoke on the fundamental importance of freedom of speech in all arenas of American life. "It is indeed a value enshrined in the First Amendment and without it there would be a welcome mat for tyranny."
During a discussion on hate speech, Greg Lukianoff, president and CEO of the Foundation for Individual Rights in Education (FIRE), argued that hate speech occasionally has worth. "I think it is hopelessly naive to think you're safer not knowing what people actually believe," he said.
Professor Susan Herman, president of the American Civil Liberties Union (ACLU), led a discussion on surveillance and asked participants to consider where the First and Fourth Amendments meet in our technologically advanced society. "I think the framers saw privacy as essential to our freedom of speech and to our relationship to the government in a democracy," she said.
Heading up the last panel, Stephen R. Shapiro, national legal director of the ACLU, raised challenges such as the labeling of something as government speech, which immediately means the First Amendment no longer applies. "I think we are in a moment of history where there is a lot of doctrinal instability in the First Amendment in ways that we have not seen," he said.
Professor Nelson Tebbe said he has hope for the future of free speech. "I have tremendous optimism in the ability of the people to influence the Court," he said, "and make sure the government is doing what it should to make sense of these ideas."
Examining Buckley v. Valeo 40 Years Later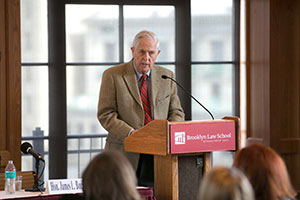 Earlier this year, the Brooklyn Law School Federalist Society and the Brooklyn Law School ACLU co-sponsored an event that drew legal scholars from around the country to mark the 40th anniversary of Buckley v. Valeo, a landmark U.S. Supreme Court case on campaign finance.
"Buckley v. Valeo remains a landmark of political freedom," said Professor Joel Gora, who helped litigate the case before the Court in 1976. "The core principle—that the people, not the government, should decide how much free speech they want and need in order to challenge the government—remains an essential foundation of democracy."
Gora and other major figures in the case, including the Hon. James L. Buckley, a former U.S. senator from New York and U.S. Circuit Court judge, who served as lead plaintiff, and Ira Glasser, former executive director at the American Civil Liberties Union, came together at the Law School to discuss the decision's impact on both campaign finance and First Amendment law.
"A healthy democracy should encourage competition in the political marketplace," said Buckley, "rather than increasing the difficulties."
Glasser discussed the ACLU's role in Buckley, in which it filed an amicus brief, noting that "the original sin of campaign finance advocacy is the notion that any speech in an election year on an issue that was critical of, or [praising] of, a candidate for federal election might affect how people vote… and therefore it was construed as a campaign act instead of free speech."
CUBE Innovators Competition Awards Prize Money to Students with Innovative Ideas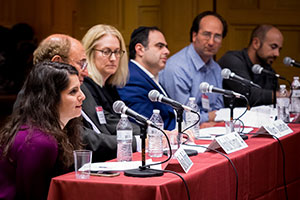 Nine Brooklyn Law School students won seed money to launch new startups at the third annual Center for Urban Business Entrepreneurship (CUBE) Innovators Competition. The competition awards funds to winning proposals for entrepreneurial ventures and legal services for entrepreneurs.
Elise Balaban '16 and Luke Pontier '16 won the $2,000 grand prize for their proposal, Futurus Trademark Search, an easy-to-use trademark search engine that would simplify the procedure of filing a trademark.
"Using machine learning and natural language processing, alongside the algorithms that power Google Images, Futurus Trademark Search allows startups to determine the probability of receiving a trademark registration expediently and at low cost," Pontier said.
The second-place prize of $1,500 went to the team of Jeremiah Ledwidge '18, Robert Engelke '17, Mike Myones '17, and Andrew Zeyer '18 for The Bench, which would be a new source of information on legal issues targeted to a general audience and delivered via email.
"Reading The Bench is like having an interesting conversation over a beer with a friend at the local pub," Ledwidge said.
Christopher Whelan '18, Brandon Perlman '18, and Amel Spahija '18 took third-place for DripSnip, a nonprofit organization with the mission of monitoring and reducing water usage and bills for low-income families.
The prize money was made possible through the Nancy and Stanley M. Grossman '67 CUBE Fellowship Fund.
After the competition, CUBE hosted a reception and panel discussion, "Brooklyn: The Sky's the Limit," that examined how the borough is one of the most innovative and entrepreneurial urban areas in the world. The keynote was delivered by Kathleen D. Warner '92, executive vice president and managing director of the NYC Economic Development Corporation's Center for Economic Transformation.
Panelists included David Ehrenberg, president and CEO, the Brooklyn Navy Yard; Jonathan Marvel, principal, Marvel Architects; Ron Shiffman, cofounder, Pratt Center for Community Development; Todd Sigaty, director of legal affairs, SHoP Architects; Brian Streem, cofounder and CEO, Aerobo drone developers; and Lee Wellington '13, executive director, Urban Manufacturing Alliance.
An Evening with Paul J. Fishman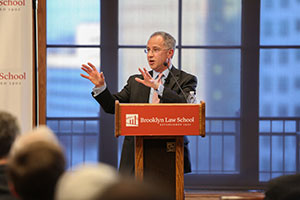 Paul J. Fishman, United States attorney for the District of New Jersey, spoke at the Law School in March about his office's work, focusing in particular on the prosecution of corporate crime. After his remarks, Fishman was joined by Professor Miriam Baer for a discussion that delved deeper into the intricacies and controversies of corporate crime law. The event was co-sponsored by the Center for the Study of Business Law and Regulation and the Center for Criminal Justice.
Technology and Compliance in the Financial World
In March, the Center for the Study of Business Law and Regulation, in partnership with the Brooklyn Journal of Corporate, Financial and Commercial Law, held its annual symposium. This year's symposium, "The Role of Technology in Compliance in Financial Services: An Indispensable Tool as Well as a Threat?" explored the inseparable function of technology and compliance in financial services.
"Technology facilitates certain compliance tasks, particularly for surveillance purposes," James Fanto, Gerald Baylin Professor of Law and codirector of the Center for the Study of Business Law and Regulation, said in his opening remarks. "It helps very much with what I'd call legal compliance, but it may adversely affect values, strategic, and advisory compliance."
Technology facilitates certain compliance tasks, particularly for surveillance purposes."
The first panel on the question of whether technology is a benefit or a threat to compliance was moderated by Centennial Professor of Law Roberta Karmel, who is codirector of the Dennis J. Block Center for the Study of International Business Law at Brooklyn Law School. The panel included Fanto; Sean J. Griffith, T.J. Maloney Chair and Professor of Law, Fordham Law School; Jane A. Kanter '73, chief operating officer, general counsel, and partner, ARK Investment Management LLC; David Lui, principal, Galliard Capital Management; and John Walsh, partner, Sutherland Asbill & Brennan LLP.
"Firms have gotten so huge, the business is so complex, and there is so much regulation, but the basic problems of running a firm are very much the same," Karmel said.
The second panel, moderated by Block Center associate director Professor Miriam Baer, focused on the role of whistleblowers in cybersecurity compliance and how to preserve human agency as surveillance becomes increasingly automated. Participants included Jennifer Pacella, assistant professor of law, Baruch College Zicklin School of Business, City University of New York; Onnig Dombalagian, George Denègre Professor of Law, Tulane University Law School; Christina P. Skinner, assistant professor of law, Brooklyn Law School; and Rebecca Sheinberg '03, principal, the Carlyle Group.
The final panel, moderated by Professor Arthur Pinto, focused on branding compliance, and how compliance and technology have helped create the modern world of finance. Participants included Mercer Bullard, professor of law, University of Mississippi School of Law; Tom C.W. Lin, associate professor of law, Temple University Beasley School of Law; Jonathan A. Gottlieb '92, managing director, senior counsel, RBS Securities Inc.; H.J. Willcox '95, managing director and chief compliance officer, AQR Capital Management; and Robert G. Leonard '85, partner, Proskauer.
The symposium concluded with a roundtable discussion during which participants shared their experiences with the impact of technology on compliance and offered insights about the future of the industry.
The Future of Careers in Health Law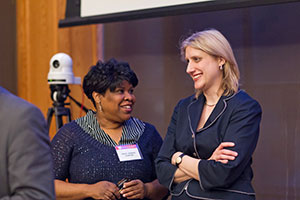 The Center for Health, Science and Public Policy hosted a panel discussion, "Brave New World: Exploring Today's Health Law Career Paths," in March. The discussion addressed legal issues surrounding digital medicine, cybersecurity, and changes in compliance and state regulations, among other topics. Speakers included Ingrid Green Jones, assistant general counsel for compliance of the College Board; Adjunct Professor Salvatore Russo, senior vice president and general counsel of the Health & Hospital Corporation of New York City; Danette Slevinski '05, senior vice president and chief of corporate compliance & HIPAA privacy officer at the NYU Lutheran Medical Center; and Robert Swidler, vice president of legal services at St. Peter's Health Partners.
"Sweeping changes are underway that will transform the health care industry and, consequently, the role of lawyers both in terms of skill set and knowledge base," said Karen Porter, associate professor of clinical law and executive director of the Center for Health, Science and Public Policy.
The event was cosponsored by the New York State Bar Association's Health Law Section Health Law Diversity Committee.
The Center for Health, Science and Public Policy serves as a resource to members of the Law School community, health service providers, and policymakers by providing programs in three core areas: scholarship and faculty development, legal education and student services, and public education and community service.