Meet Brooklyn Law School graduates and students who are gaining valuable practical legal skills through an innovative fellowship program
By Andrea Strong '94 & Jen Swetzoff
In 2014, Brooklyn Law School launched the Public Interest/Public Service (PipS) Fellowship, a pioneering program with the goal of improving the practical skills of new lawyers, while expanding the ability of nonprofit organizations and government agencies to provide legal services. Brooklyn Law School is the first law school on the East Coast to offer this unique fellowship.
Professor Stacy Caplow, associate dean of professional legal education, developed the two-year fellowship program in cooperation with government agencies and nonprofit organizations throughout New York City. During their third year of law school, PipS Fellows work full time in entry-level positions receiving appropriate training and supervision at one of the partner legal offices, as well as attending a classroom component taught by Adjunct Professor Glenn Magpantay, who is a staff attorney at the Asian American Legal Defense & Education Fund. After nine months of work, fellows graduate and take a hiatus to study for the bar exam before returning to their placement for a full year of paid work. Upon completing their fellowships a year later, the fellows have almost two full years of experience, which makes them highly valuable on the job market.
The first group of nine PipS Fellows graduated in 2015 and are now working in public- and private-sector legal jobs in the New York City area.
"Most of the students who apply for the PipS Fellowship see themselves as people who want to do public interest work for the long haul," said Caplow. They know what they want. They're very committed. This is their path."
The Law School's newest group of PipS Fellows includes Rachel Russell '17, who is working this fall at the Legal Aid Society's Harlem Community Law Offices in its HIV/AIDS Representation Project. She handles a wide variety of cases including Social Security appeals, housing, and employment matters.
"All the cases come in under the umbrella of clients who are HIV positive, which means there is a lot of interesting work in many different fields," she said. "It's a great experience."
Russell came to the Law School to become an advocate for the LGBT community. She has already interned at the nonprofit civil rights organization Lambda Legal and with the Civil Rights Bureau of the New York State Attorney General's Office.
"I wanted to get as much experience as possible while still in law school and thought PipS would be an invaluable opportunity," she said.
Shalisa J. Cumberbatch '16, a member of the second group of PipS Fellows, came to law school with one goal—to work in the public interest. "I was a paralegal at Bronx Aid Services, and I was so excited by that work that I gave my notice and applied to law school," she said. She also was a Brooklyn Law Students for the Public Interest (BLSPI) Fellow and an Edward V. Sparer Public Interest Fellow. As a PipS Fellow she worked at Brooklyn Defender Services—Family Defense during her third year. This fall, she began her first year as a staff attorney for the organization, which provides legal representation to those who cannot afford a lawyer.
"Working during my third year of law school gave me the skills and depth of experience necessary to be fully prepared to start as a staff attorney," she said. "I loved my PipS Fellowship. The best part was doing the work of an entry-level lawyer as a third-year student."
"PipS is a cutting-edge program in today's legal community," says Magpantay. "Students learn the theories underlying public interest practice and they put those theories into practice. It's an innovative kick start to a career in providing legal services and a lawyer's help for those who cannot afford counsel."
Meet three PipS Fellows from the inaugural class who are working on behalf of immigrants, victims of domestic violence, and youthful offenders in New York City, and who were hired to stay on with their employers after their two-year fellowship ended.
Alexander Hu '15
Staff Attorney at New York Legal Assistance Group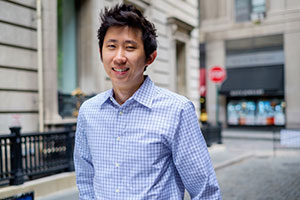 "My parents are immigrants, so that makes my area of work especially personal for me," said Alexander Hu '15, a staff attorney in the Immigrant Protection Unit at the New York Legal Assistance Group (NYLAG). "They moved first from China to Taiwan, where they met and married, and then finally to the United States, where my older sister and I were born and raised. Against the backdrop of my own immigrant history, my advocacy work for immigrants' rights is particularly meaningful and something I know I want to continue doing for the duration of my career—and it all came together because I decided to apply for the PipS Fellowship."
Hu grew up in Long Island and received his bachelor's degree in finance and social entrepreneurship from New York University. Before enrolling in law school, he founded and directed an anti-racism social venture called The Human Color, worked with the nonprofit ERASE Racism as a volunteer and research fellow, and interned at Baron & Goodsell, a local legal office.
Against the backdrop of my own immigrant history, my advocacy work for immigrants' rights is particularly meaningful."
"I chose Brooklyn Law School because of its strong public interest programs," Hu said. "When Professor Caplow told me about the opportunity to apply for a PipS Fellowship, I jumped at the chance. I liked the emphasis on joining an ever-growing community of fellows who are involved with public interest and social justice work. I also was drawn to the idea of working closely with faculty in a space beyond the classroom, so they could mentor and guide students and invest in their trajectory through law school and after law school. We came together regularly for discussions and Professor Caplow encouraged us to reflect on the experiences at our placement. We wrote journals about what we were learning in terms of substance, but also how to navigate the organization. That kept us connected to the Law School and ensured that we were growing in a direction we wanted to. I always felt that there was a strong safety net."
At NYLAG, Hu was placed in the Immigrant Protection Unit and he was hired as a full-time staff attorney after completing his two-year fellowship. Today, his fluency in Mandarin, which his parents taught him at home and at a local Chinese school they cofounded, has proven particularly helpful with the large number of Chinese clients that he serves from communities including Brooklyn's Sunset Park and Manhattan's Chinatown.
"From the start, I had my own caseload, which really showed me what it's like to work as an attorney," he said.
Before joining NYLAG, Hu had served as a legal intern at the Asian American Legal Defense and Education Fund, the MinKwon Center for Community Action, and New York Lawyers for the Public Interest, and he participated in the Safe Harbor Clinic at Brooklyn Law School. An ambitious student, he also took a number of immigration courses and served as the vice president and treasurer of the Brooklyn Law Immigration Society.
"Immigration law is such a challenging yet compelling area to me," Hu said, "and I am grateful that I will have the opportunity to continue to hone my skills and knowledge over time at NYLAG."
Sara Friedman '15
Staff Attorney at New York Legal Assistance Group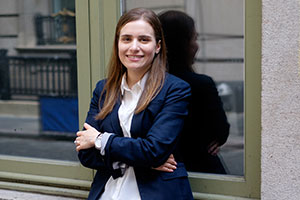 In addition to employing Hu, NYLAG hired another PipS Fellow following the post-graduate year: Sara Friedman '15. Friedman, who speaks Hebrew, helps victims of domestic violence escape their abusers as a staff attorney in the matrimonial and family law unit. She focuses on working with women in the Orthodox Jewish community through Project Eden, which goes beyond criminal justice interventions and includes a wide range of culturally sensitive and appropriate services offered through partner agencies. Since 2002, more than 550 women have benefited from Project Eden's network of services, and more than 1,000 individuals have attended educational programming.
"It's an incredible feeling when you can help a woman feel empowered to leave her abuser and feel a sense of safety that maybe she hasn't felt since the day she got married," Friedman said. "There was never a question in my mind about what I wanted to do with my law degree. I knew I wanted to litigate and advocate directly for clients. NYLAG has been the perfect fit for me because it feels like a cross between a nonprofit and a firm. I see the importance of my work—the ability of the law to bring security to a woman and her children."
A native of Philadelphia, Friedman received her bachelor's degree in political science and Middle Eastern and Islamic studies from New York University. During college, she interned at NYLAG for three years and then worked as a paralegal there for two years.
There was never a question in my mind about what I wanted to do with my law degree. I knew I wanted to litigate and advocate directly for clients."
"My favorite parts of school were always my internships and being in court," said Friedman, who held internships at the Waterfront Commission of New York Harbor, the Children's Law Center, Brooklyn Defender Services, and the Legal Aid Society before joining NYLAG. Danielle Sorken, director of the Public Service Office, guided Friedman in her career and suggested the PipS Fellowship. She explained to Friedman that the fellowship would allow her to do more public interest work and have a job lined up when she graduated. "We literally started filling out my application in her office that same day. It was really nice to know, after finals in my second year of law school, that I already had a job after graduation. And that I'd have my own caseload," said Friedman.
Friedman admits that the fellowship was not easy, but said that the experience was tremendously rewarding. In addition to working at NYLAG and participating in Moot Court, where she served on the executive committee, coached a team, and ran the first-year competition, she also enrolled in a criminal procedure class with Professor Bennett Capers during her third year to gain more knowledge in this area.
"The PipS program is a huge time commitment, but it's one of the best experiences you can hope to get in your career. It helped me determine what I wanted to do, and I would encourage any other student interested in public service to apply for the fellowship."
Friedman is clearly proud of her work at NYLAG, preparing petitions and motions to get a client the safety she and her children need, and the stability she deserves. "Going through family court can be a very long process," she said, "and it takes three to five years for a woman to leave her abusive partner, and seven to 13 years for Orthodox women to leave their abuser, often because familial and spiritual alienation contributes to the abuse. But already in my first year out of law school, I've conducted a full custody trial. And I currently represent a number of clients in both family court and state Supreme Court," Friedman said. "I sincerely love what I do and I look forward to continuing my work at NYLAG. It's an opportunity for which I will always be grateful."
Eric Eingold '15
Legal Fellow, Youth Represent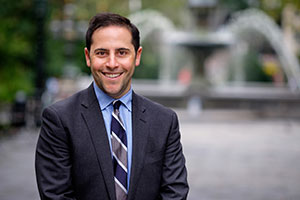 "There's growing awareness that legal education is changing," said Eric Eingold '15. "The material you learn in school is really important to get the substance of the law. But the course work doesn't prepare you to jump into a career as an attorney. The training and the mentorship in a legal services office is really what helped me learn the ins and outs of practice."
Eingold grew up in South Florida and attended college at the University of Central Florida, where he became involved with antiwar activism. After he graduated in 2008, he moved to New York to get his master's degree at the New School for Social Research. He then worked on social justice issues for several years—at Democracy Now, the New York Public Interest Research Group, and Ma'ase Olam, an Israeli-based nonprofit that promotes volunteering—before enrolling at the Law School. After his first year, the Center for Constitutional Rights awarded him the Ella Baker Fellowship, and he spent his summer working as a legal intern for the Community Justice Project in Miami. The experience convinced him that he wanted to pursue a legal career in social justice.
When Eingold returned to the Law School, he heard about the PipS Fellowship and decided to apply for a placement at Youth Represent, a youth defense and advocacy nonprofit organization that provides holistic legal services to people under 24 years of age who have criminal records. Youth Represent was started by an alumna, Laurie Parise '15. Several other graduates also work there, including Michael Pope '10 and Maire O'Malley '13. After working as a PipS Fellow there for two years, Eingold was hired as a full-time staff attorney.
"It's an incredible privilege to provide legal services and counsel to young people, particularly those who are coming from communities that are overly and unfairly policed," Eingold said. "Despite traumatic experiences with the justice system, I see so many resilient individuals overcome the challenges they've faced to find work and build a good life for themselves."
He recalls the story of a client who had two misdemeanor convictions for crimes when he was young—one for possession of stolen property and another for an infraction at Rikers Island when he was briefly imprisoned there. He went through a reentry program, "Getting Out and Staying Out," and quickly got hired to work at a local restaurant. Soon after, he applied for a security guard position that would double his hourly pay. The employer offered him the job, but then did a background check that came back with errors. It said that the young man had been incarcerated for five years instead of five months, and the company withdrew his offer based on the misinformation. At Youth Represent, Eingold worked to prove that the background check was incorrect and resulted in a loss of work for the young man, ultimately winning him a settlement of $10,000.
Eingold's diverse responsibilities include rap sheet review, representation in criminal and summons courts, and employment-related litigation. He also represents clients in housing court, family court, and even school suspension hearings.
"I'm so grateful for this opportunity that PipS gave me," Eingold said. "The fellowship was a great way for me to break into the public interest arena. It's exciting and varied work and you are a year ahead of your classmates in building your skill set, while beginning the process of having your loans forgiven. It's been an invaluable experience for me."