Professors Susan Hazeldean, Christina P. Skinner, and Alexander Stein join a faculty already renowned for excellence in scholarship and teaching.
By Andrea Strong '94
For more than 115 years, Brooklyn Law School has been acclaimed as a center for advancing the power of law to make a positive difference. This legacy has continued to thrive in large part because of the Law School's extraordinary faculty, which is currently ranked 26th in the nation in terms of most-cited tenured law school faculty. They are engaged in important research and law reform that shapes and advances critical legal and policy issues in an impressive number of fields. Brooklyn Law School faculty also are nationally recognized for their teaching, practical training, leadership, and service.
This fall the Law School welcomed three new distinguished faculty members: Alexander Stein, professor of law and a nationally recognized scholar in the area of torts, evidence, and medical malpractice; Susan Hazeldean, assistant professor of law and the founder of the Law School's new clinic for LGBT Advocacy; and Christina P. Skinner, assistant professor of law and an expert in financial regulation and international business transactions.
"We are excited to welcome Professors Stein, Hazeldean, and Skinner to Brooklyn Law School," said Dean Nick Allard. "They are widely respected in their fields as scholars, teachers, and clinicians, and their exceptional experience and expertise will further enrich our nationally recognized faculty and contribute to our vibrant intellectual community. I look forward to their contributions to the Brooklyn Law School legacy of advancing scholarship, teaching, and practice that has an enduring impact on the law and society."
Alexander Stein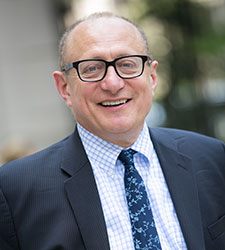 By the time Professor Alexander Stein was three years old, he was playing chess. He played throughout his formative years in Russia, where he competed professionally. When he moved to Israel with his family, he continued to compete in international tournaments. His decision to attend law school was due in part to his agility at chess.
"From what I knew about the law, it seemed that success in the profession was dependent on creativity, and logic, both of which are essential to the game of chess," he said. Although chess led him to the law, he did give it up professionally when he realized that if he were to make the Dean's List, he would have to make law his priority.
After graduating from the Hebrew University of Jerusalem with his law degree (LL.B.), Stein developed an interest in criminal law while clerking for two judges—Hon. Rachel Sukar, head of the Criminal Litigation Department in the Office of the Attorney General in Israel; and Justice Menachem Elon of the Israel Supreme Court. He later practiced commercial litigation at Raveh, Abramson & Co. in Jerusalem, and then became a partner at Wiskind & Stein. He also maintained an active pro bono criminal caseload.
"I wanted to litigate, and I was most interested in criminal litigation, which the firm allowed me to do on a pro bono basis," Stein said. His work was critical in filling the gap in Israel's criminal justice system—the country lacked a public defender system. Stein set out to remedy this problem, and with funding from Hebrew University and the Tel Aviv School of Law, he co-created the Israeli public defense system together with Kenneth Mann, who became Israel's first public defender.
In 1987, Stein left Israel to study for his Ph.D. at University College London, where he wrote his dissertation on the law of evidence and the problem of risk distribution. He became a professor at Brunel University, London, teaching evidence and criminal law, and then in 1991 he joined the faculty of Hebrew University teaching similar courses as well as civil procedure. During his 12 years at the university, he become vice dean and the Sylvan M. Cohen Professor of Law. He also spent time as a visiting professor at Benjamin N. Cardozo School of Law, Columbia Law School, Yale Law School, and Harvard Law School. He became a full-time faculty member at Cardozo in 2004, where he taught torts, medical malpractice, evidence, and constitutional criminal evidence before joining the Brooklyn Law School faculty in July.
Over his decades-long career, Stein has become a preeminent authority in the areas of torts, medical malpractice, evidence, criminal law, and general legal theory. He was recently recognized as one of the most highly-cited scholars in the field of evidence, according to Brian Leiter's Law School Reports. He serves on the editorial board of the International Journal of Evidence & Proof and was one of the founding editors of Theoretical Inquiries in Law. He runs an e-journal, STEIN on Medical Malpractice, which covers significant developments in medical malpractice laws across the United States, and he is a permanent contributor to Bill of Health, a blog run by the Petrie-Flom Center for Health Law and Policy, Biotechnology, and Bioethics at Harvard Law School.
"I strive to help improve legal mechanisms though meticulous analysis and vibrant interdisciplinary conversations about the law among scholars, students, policymakers, and judges," Stein said. "My goal is to develop insights that will help courts make better decisions and enhance my students' grasp of the law."
Stein's prolific writings combine law with economic theories and moral philosophy. He has written three books, including Foundations of Evidence Law (Oxford University Press, 2005); Tort Liability Under Uncertainty (Oxford University Press, 2001) coauthored with Ariel Porat; and he coauthors a leading evidence casebook: An Analytical Approach to Evidence: Text, Problems and Cases (6th ed., 2016) with Ronald J. Allen, et al. He has written more than 60 articles, including "The Domain of Torts," which sheds new light on the foundations of our entire torts system, to be published next year in the Columbia Law Review, and the forthcoming "Empowering Individual Plaintiffs," with coauthor Gideon Parchamovsky, to be published in the Cornell Law Review. In that article, Stein and his coauthor identify the structures of discrimination against plaintiffs and demonstrate that "our system is structurally unfair to individual plaintiffs." He also recently published "Abortion, Informed Consent and Regulatory Spillover," for the Indiana Law Journal (coauthored with Katherine Shaw), and he is currently working on a treatise on medical malpractice that expands on his extensive work in this emerging field of legal scholarship.
While Stein loves to write, his true passion is teaching. "If I were told, 'you only need to write three articles a year and do no teaching,' I would politely decline the offer," he said. "I especially like teaching 1Ls because you have the opportunity to build their whole conceptual understanding of the law. I love helping them to grasp the basics of the legal system."
Susan Hazeldean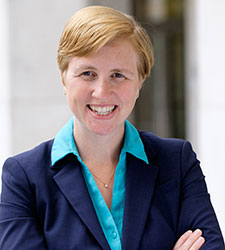 A transgender woman assaulted by a corrections officer at Rikers Island; a young gay man in fear for his life in his home country seeking asylum in the United States; a young lesbian woman seeking a divorce from her abusive spouse; a transgender woman put into general population and raped by an inmate in a maximum security men's prison. These are some of the cases being handled by students enrolled in the Law School's new LGBT Advocacy Clinic, directed by Professor Susan Hazeldean.
Hazeldean is excited about launching the clinic at Brooklyn Law School, where "so many of our students are inspired to make a contribution and increase access to justice," she said. "Our clinical students are working to assist LGBT clients who have been marginalized on the basis of sexual orientation or gender identity and help them achieve justice and assert their civil rights."
Hazeldean joined the Law School this summer from Cornell University, where she founded and directed a similar LGBT advocacy clinic. She grew up in Scotland and came to the United States to attend college at the University of North Carolina at Chapel Hill, where she received a B.A. in political science. With a passion for social justice, she went straight to Yale Law School, where she was an Arthur Liman Public Interest Law Fellow.
"I had always been interested in the law and wanted to contribute to positive social change," she said. While at Yale, Hazeldean was involved in two clinics— the Advocacy for Parents and Children Clinic, where, as student director, she represented low-income parents and children, and the Immigration Clinic, working with asylum seekers. Hazeldean went on to become a staff attorney then project director at the Urban Justice Center's Peter Cicchino Youth Project in New York City, which provides free legal representation to homeless and at-risk LGBT youth in matters related to immigration, foster care, public benefits, and family law. But a seed had been planted: she hoped to someday return to clinical teaching.
In 2009, she returned to Yale to become a Robert M. Cover Clinical Teaching Fellow in the Worker and Immigrant Rights Advocacy Clinic and a clinical lecturer and associate research scholar in law. Two years later, she fulfilled her dream of returning to clinical work when she founded the Cornell LGBT Clinic.
Today at Brooklyn Law School, she is once again working with law students to improve access to legal representation for a community on the margins.
In addition to her influential clinical work, Hazeldean's scholarship has helped to advance the rights of low-income, immigrant, and LGBT families. "LGBT people, youth, undocumented immigrants, and people of color continue to be denied basic rights to family integrity, educational opportunities, fair employment, and protection from violence," she said. "I use my scholarship to propose legal solutions to protect the rights of vulnerable individuals, children, and families."
Her recent article, "Anchoring More than Babies: Children's Rights After Obergefell v. Hodges," to be published in the Cardozo Law Review, examines the implications of the Supreme Court's marriage equality decision for children's rights. Another article, "Confounding Identities: The Paradox of LGBT Youth Under Asylum Law," published in the University of California at Davis Law Review (2011), analyzes the adjudication of political asylum claims by LGBT youth.
Hazeldean already sees the new clinic at Brooklyn Law clinical having an impact on her students. "It's exciting as a teacher to witness the level of energy and enthusiasm that the students have, and to see someone who is just beginning their legal career realize what amazing good that they can do in the world with the skills they have learned so far," she said. "I feel so lucky to be a part of the BLS community."
Christina P. Skinner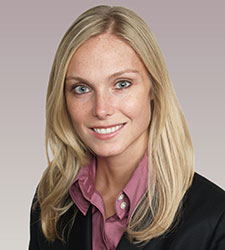 Christina P. Skinner, who teaches and writes about financial regulation, financial institutions, securities regulation, international business transactions, corporations, and business and legal ethics, has joined the Brooklyn Law School faculty after teaching at Columbia Law School, where she was an associate in law.
"There are so many reasons I was drawn to teaching," she said, "but overall it was the opportunity to interact with intellectually curious and driven students, and to help them find their place in the legal profession. I am also excited to engage with a dynamic and interactive faculty at Brooklyn."
Skinner, who grew up in Delaware, said she decided to attend law school because "I felt that legal training, given its versatility, would be the best way for me to pursue the range of interests I had in economics, international policy and relations, and government administration."
With a strong interest in public policy and international affairs, Skinner attended Princeton University where she majored in the Woodrow Wilson School of Public and International Affairs, concentrating on international economics. She also studied for certificates of proficiency (similar to "minors") in European politics and society and Spanish language and culture. Skinner spent a semester abroad at the University of Oxford, studying European Union institutions and international relations, which gave her another opportunity to deepen her understanding of international affairs and public policy.
Following college, Skinner joined the U.S. Institute of Peace as a program assistant at the Center for Post-Conflict Peace and Stability Operations in Washington, D.C. She then attended Yale Law School, where she was executive editor of the Yale Law Journal and senior editor of the Yale Journal of International Law.
Skinner called her subsequent clerkships for Justice Thomas L. Ambro of the Third Circuit Court of Appeals and Judge Barbara S. Jones of the Southern District of New York, "transformative experiences."
They continue to be amazing mentors," she said. "Both taught me strong writing and research skills, and also helped me in my practice of law, as both judges had strong backgrounds as practicing lawyers before they went on the bench."
Later, as an associate at Zuckerman Spaeder LLP, she represented corporations and financial institutions, and served as counsel to the New York State White Collar Crime Task Force.
"I was lucky enough to join a law firm with partners who felt strongly about nurturing the careers of the firm's associates," she said. Skinner hopes to "pay it forward" at the Law School by becoming a strong mentor to her students. She will teach securities regulation and international business transactions, and hopes to teach a course on financial institutions or international financial regulation, which are the focus of her research and writing.
"I hope that my work will help scholars, regulators, and those in the financial services industry grapple with three questions," Skinner said. "What risks do global financial institutions pose to the safety and soundness of the worldwide economy? What types of external risks do these institutions face? And how can international financial regulation, as implemented by domestic authorities, best manage these various risks?"
Her scholarship has been published in top law reviews: "Ethical Dilemmas in Inter-State Disputes," in the Alabama Law Review (2016); "Misconduct Risk," in the Fordham Law Review (2016); and "Whistleblowers and Financial Innovation," in the North Carolina Law Review (2016). A forthcoming article, "Regulating Nonbanks," will be published in the Georgetown Law Journal.
Skinner is looking forward to teaching; she said: "Teaching allows me to put my research into action by translating it into the nuts and bolts skills that can serve as the students' foundation for practice. I hope that my courses will teach the students confidence in their craft, and the importance of creative problem-solving—this is what their clients will need."