The increasingly popular reform effort has the potential to transform the criminal justice system
By Professor Jocelyn Simonson
Every day, more than 450,000 defendants across the United States sit in local jails because they cannot afford the bail that a judge has set in their criminal case. Multiple studies over the last several years have shown that pretrial detention increases the chances of a conviction, extends the probable length of a sentence, and decreases the chance that the charges will be dismissed altogether. Moreover, as the public learned in the summer of 2015 with the deaths of Kalief Browder in New York City and Sandra Bland in Texas—both of whom had been in jail because they could not pay bail—jail is often a violent and damaging place. The result of the money bail system is that criminal defendants are punished for their poverty as much as for anything illegal they might have done.
Amid a new wave of reform efforts aimed at reducing the criminal justice system's reliance on money bail, a new form of bottom-up community resistance to the practice has emerged as a powerful force. Community groups in jurisdictions across the United States have increasingly begun to post bail on behalf of strangers, using a revolving pool of money known as a bail fund. These funds include new charities set up in partnership with public defender offices in Massachusetts, the Bronx, and Brooklyn; identity-based bail funds including a bail fund for transgender sex workers of color in Queens, N.Y., and a bail fund supporting communities of color targeted by policing in Chicago; and bail funds formed by activists within the Black Lives Matter movement, who have used crowdsourced funding to post bail for hundreds of protesters and allies in Ferguson, Baltimore, Cleveland, Oakland, and Baton Rouge.
The goal of most bail funds is not just to secure the freedom of their community members, but also to work toward the elimination of money bail entirely. These bail funds inject community input into a critical moment in the public adjudication of a criminal case. Each time a community bail fund pays bail for a stranger, the people in control of the fund reject a judge's determination that a certain amount of the defendant's personal money was necessary for the defendant's release. Over time, as community bail funds post bail for multiple defendants, these individual acts can add up to a larger statement about the fairness of money bail and become a form of on-the-ground resistance to the workings of everyday criminal justice. The result is more popular input into criminal justice from outsiders who rarely have a say in how their local justice systems are administered.
The importance of community bail funds is tightly linked to their participatory nature. They allow individuals to take part with even small monetary contributions and thereby join with other community members to express frustration with legal and constitutional standards. Community bail funds thus shine a light on efforts by traditionally disempowered populations to resist and, ultimately, change the contours of local criminal justice practices. In the world of plea bargaining, injecting moments of popular input into criminal procedure is one of the only ways such input can occur at all in today's criminal justice system. The bail-posting decision is not the only such moment, however. For example, I have argued that observing courtroom proceedings and organizing cop-watching groups are powerful forms of participation through observation (see Copwatching, 104 Calif. L. Rev. 391 (2016) and The Criminal Court Audience in a Post-Trial World, 127 Harv. L. Rev. 2174 (2014). But community bail funds do something especially powerful because they facilitate actual intervention into one of the most crucial moments of all: when a judge decides the fate of a case by determining whether or not money bail will be set out of the financial reach of a defendant. When community bail funds intervene at this moment, they can shift the meaning of bail—and, ultimately, justice—back into the hands of the people most affected by the practice. When they are at their most powerful, community bail funds help us imagine a system of criminal adjudication that is truly responsive to popular demands for justice.
---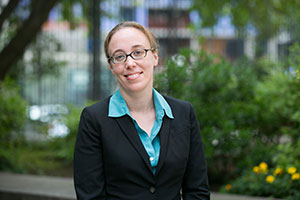 Jocelyn Simonson is associate professor of law at Brooklyn Law School. She teaches courses in criminal law and evidence. Her scholarship explores ways in which the public participates in criminal justice processes and how that participation, in turn, has the potential to lead to broader changes in the justice system. Her background includes work as a public defender with the Bronx Defenders.
This essay is adapted from Simonson's article "Bail Nullification," forthcoming in the March 2017 issue of Michigan Law Review.