Outstanding Public Service from the Graduating Class of 2020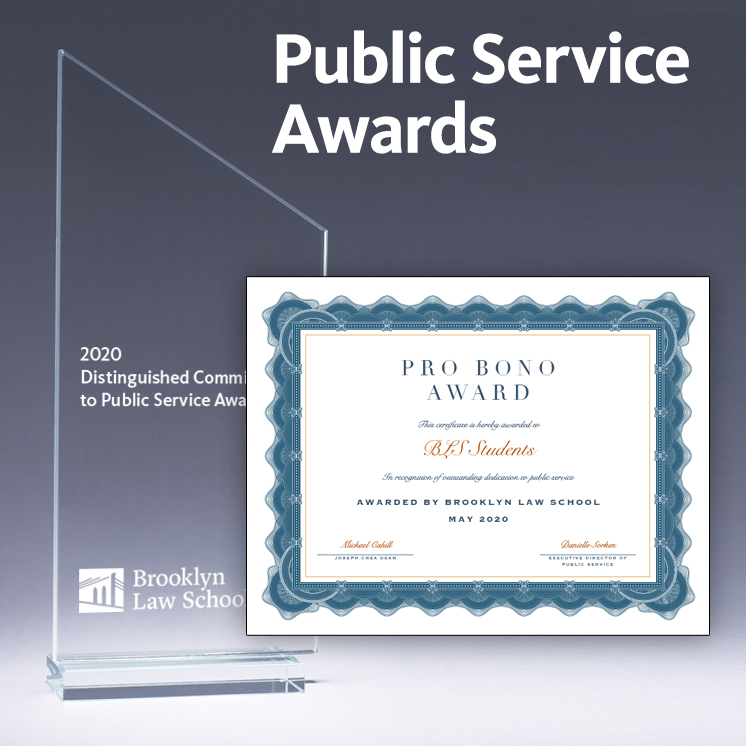 Every spring, the Public Service Law Center hosts an award ceremony and reception to celebrate graduating students who have performed extraordinary pro bono and public service work during law school. Students engage in about thousands of hours of pro bono work, providing assistance to survivors of domestic violence, immigrants and refugees, LGBTQ individuals seeking a range of protections, low wage earners, returning veterans seeking medical care, tenants at risk of eviction or desperately needing repairs, exploited workers, consumers struggling with debt, persons facing foreclosure, children needing advocacy to obtain a decent education, and to many others. In addition to working with myriad non-profit organizations including The Legal Aid Society and Legal Services NYC, our students have developed dozens of pro bono projects that help improve the quality of life for vulnerable individuals and families.
Gold Award: 1,000+ Hours
Caitlyn Garcia
Vilma Ilic
Areeb Khan
Alexandra Lenczewski
Milana Lipkind
Ankit Mehta
Monica Mercola
Jessica Olive
Danielle Robinson
Hannah Sarokin
Katharine Schloemer
Kayla Smith
Karine Ter-Grigoryan
Charlotte Thomas
Yasemin Akturk
David Baloche
Cory Bernstein
Benjamin Bisaro
Gianna Boccanfuso
Michael Boutros
Jane Brennan
Michael Curatola
Shanni Davidowitz
Briana Delaney
Rebecca Del Grande
Robert Denis
Brian Egan
Travis Elliott
Emilia Foto
Silver Award: 500+ Hours
Claudia Martinez
Erica Molina
Michael Nesheiwat
Marissa Ngai
Joseph Nielsen
John Juhoon Oh
Elizabeth Olsen
Catherine Rudell
Stephany Ruiz
Sacha-Aviva Sellam
Rani Shulman
Nikolas Sulley
Andrey Udalov
Zoe Waldman
Amanda Walsh
William Williams
William Winnick
Hannah Zack
Yuying Zhu
Amani Abuhamra
Megan Adams
Revel Atkinson
Binyamin Bixon
Nicole-Amanda Brandofino
Clint Carlisle
Nicholas Carra
Franka Cepele
Jessica Franzetti
Maximilian Ferlesch
Patrick Gallagher
Alexandra Getsos
Sara Goldman
Justin Heller
Jennifer Henck
Dylan Ilario
David Ilganayev
Sophie Kravet
Jasmine Lee
Daniella Lesser
Public Service: 250+ Hours
Maribel Lopez
Elizabeth Lynch
Hernan Ortiz
Vincent Paradise
Chowdhury Rahi
Courtney Reyes-Cummings
Ashley Robinson
Carrie Sandstrom
Matthew Schechter
Taylor Schlussel
John Jeongmin Shin
Rachel Torres
Mary Tran
Nicole Ventura
Joseph Zapata
Kaitlyn Baietto
Monica Beshay
Emily Dean
Elizabeth Fudge
Diego Gomez
Joshua Hamlet
Michele Jackson
Boyeon Jin
Janna Joassainte
Henry Evander Jones
Thomas Kelly
Laura Kendrick
Leona Lam
Kenneth Law
Pro Bono Project Leaders
Patrick Gallagher
William Granados
Victoria Holzinger
Lena Janoda
Oren Kadosh
Anna Melendez
Erica Molina
Jessica Olive
Catherine Perez
Alex Petkanas
Elizabeth Potter
Robert Price
Megan Adams
Ramsha Ansari
Kaitlyn Baietto
Mitchell Bower
Danielle Blackburn
Alexander Brock
Clint Carlisle
Franka Cepele
Bailey Cohen
Jaime Dinan
Brian Egan
Pro Bono Scholars and PipS Fellows
Ramsha Ansari
Benjamin Bisaro
Alexander Brock
Franka Cepele
Travis Elliott
Caitlyn Garcia
Jessica Olive
Alex Petkanas
Jennifer Stevenson
Briana Delaney
Charlotte Thomas
Jennifer Henck
Lena Janoda
"I recently ran across this quote from Theodore Roosevelt: Nobody cares how much you know until they know how much you care. We do know how much you care. So, despite current circumstances, we wanted to honor all of you for your hard work and dedication as well as for confirming Brooklyn Law School's longstanding commitment to public service and social justice."