Women's Leadership Circle
The Women's Leadership Circle is the executive council of the Women's Leadership Network. The Circle is a dynamic group of alumnae from a wide range of backgrounds and careers in private practice, government, business, and industry.
Meeka Bondy '94, Chair
Andrea Anderson '04
Anna Ashurov '12
Anne Marie Bowler '00
Colleen Caden '99
Harriet N. Cohen '74
Michelle Crutchfield '05
Denise Faltischek '00
Valerie Fitch '88
Nicole George-Middleton '01
Ashleigh Goit '15
Hon. Emily Goodman '68
Debbie Epstein Henry '94, Inaugural Chair Emerita
Laurie Hutchins '09
Stacy Kanter '84
Susan Karten '83
Hon. Claire Kelly '93
Diana Lamorie '10
Olivera Medenica '00
Karin Norton '97
Colleen Piccone '90
Susan Posen '78
Dorothea Regal '78
Deborah Riegel '93
Nicole Schermerhorn '12
Jodi Siegel-Stein '06
Sonya Smith-Valentine '97
Hon. Anne Swern '80
Sophia Valiotis '04
Marcia Wallace '77
Mary Willis White '13
Bev Wilson '12
Hon. Jennifer P. Wilson '01
Paige Zandri '09
The Women's Leadership Network Scholarship
A scholarship established by the members of the Brooklyn Law School Women's Leadership Circle supports students who best exemplify the mission of the Network.
Past Recipients:
Anastasia Kyriakos '23
Chelsea Daniel '23
Melinda Calderon '25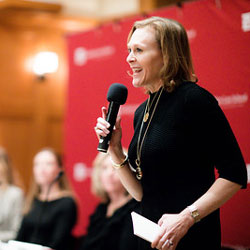 Contact
For more information about the Women's Leadership Circle and/or the Women's Leadership Network, please contact Sarah Gowrie, Director of Alumni Engagement at sarah.gowrie@brooklaw.edu.