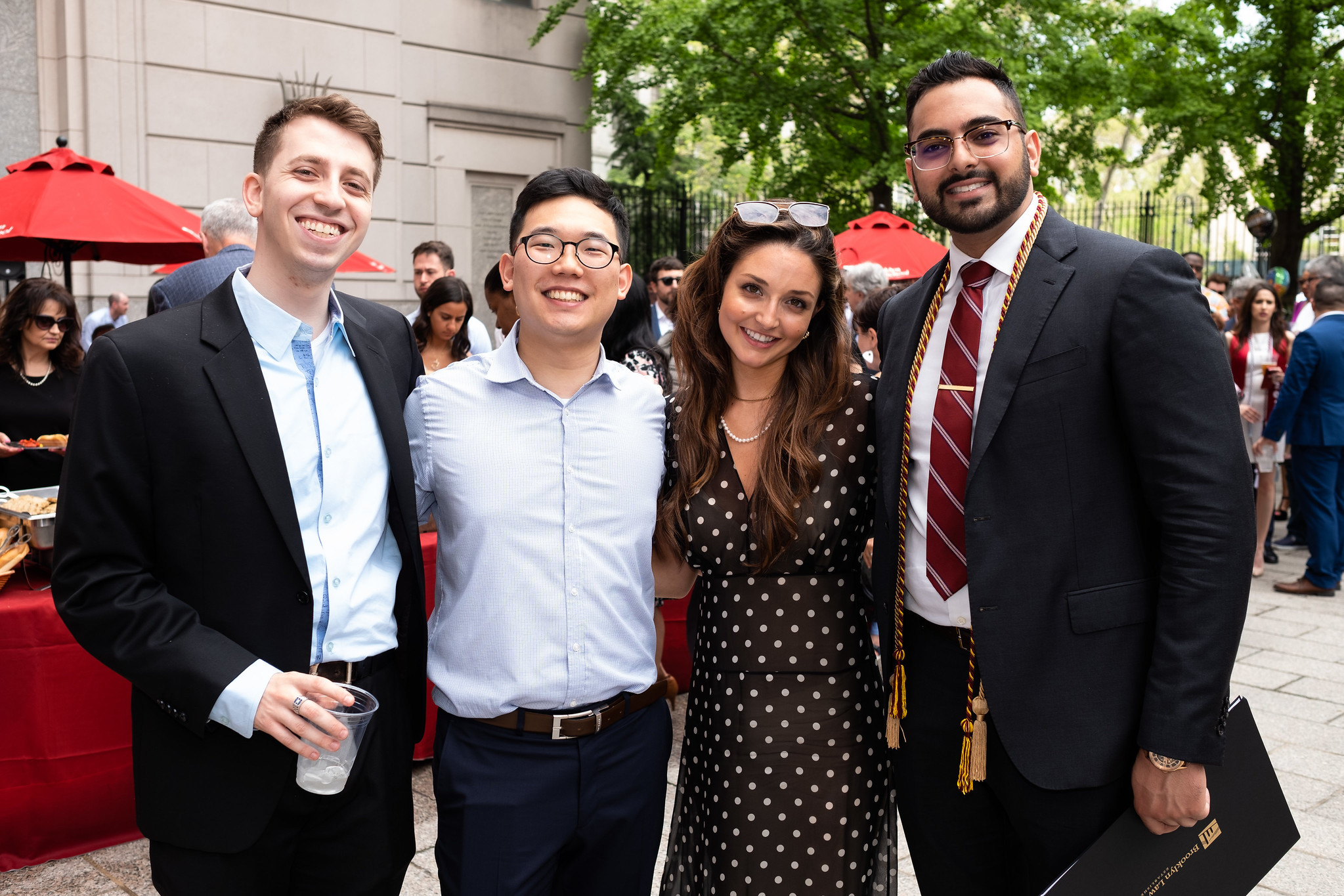 Play Video
J.D. Application Process
Brooklyn Law School offers a choice of flexible enrollment options to adapt to students' needs. We offer a Standard 3-Year J.D. Degree Program and an Extended (Part-Time) 4-Year J.D. Degree Program. The application process for both programs is the same.
Within the 3- to 4- year range, students choose the length of time to complete their 85-credit course of study. We also offer some additional flexibility to graduate one semester early provided students complete the requisite coursework or to extend for a semester if they need the additional time.
Admission Criteria
Applicants to Brooklyn Law School's Juris Doctorate program must have successfully completed:
Admission to Brooklyn Law School is based on individual consideration of each applicant's character and fitness, commitment to a legal education, academic achievement, aptitude for successful law study, life experience, and other key indications of professional promise. Although standardized test scores are helpful in forecasting a student's future academic performance, they are not used as the sole criterion for making the decision to admit or deny a student. Previous grades, undergraduate record, writing ability, and recommendations are additional criteria.
Brooklyn Law School seeks applicants of high moral character that have demonstrated the capacity for excellence and achievement in their personal, professional, and academic endeavors. Applicants presenting records that demonstrate perseverance, diligence, curiosity, leadership, creativity, or selflessness, in addition to academic success, are especially encouraged to apply. Applicants must be at least 18 years of age and must have previously earned a Bachelor's-level degree or its equivalent from a college or university recognized by the New York State Education Department.
Application Submission
All applications are submitted through www.lsac.org. If you need assistance or have questions about the application, please contact the admissions office at admitq@brooklaw.edu. If you need technical assistance with the LSAC's website or have questions about the Credential Assembly Service, please contact the LSAC directly.
You will need the following supplemental documents:
Resume
Personal statement (1-3 pages in length)
Explanation, if needed, to affirmative responses to Character and Fitness-related questions
Dean's Certification Form (if necessary)
Optional Essay submissions
Letter of Good Standing
If you attended another law school, even for a single day, and whether or not you are applying as a transfer student, you must submit a Letter of Good Standing from that other law school.
Application Review
The Admissions Committee will only review an application once it is complete. An application is considered complete when all required documents, including the candidate's LSAC Credential Assembly Service (CAS) Report and two Faculty Evaluations, have been received and processed by the Law School's Office of Admissions.
Applications are reviewed and accepted on a rolling basis beginning in the fall. The Admissions Office continues to review applications as they become complete and until the class is full, or until the start of classes in August.
Please keep in mind that, although the tracking system may indicate that all required documents have been received, the Admissions Committee may determine, upon later review of the file, that a clarification or additional information and/or documentation is required.
Once you submit your application, to ensure that future communications from our office are not sent to your spam folder, please add the following email addresses to your contacts list: mariafe.sila@brooklaw.edu, romina.fraiegari@brooklaw.edu, and admitted@brooklaw.edu.
Deadlines
Applications for the following year are available starting September 1. Please note that you do not need a reportable LSAT or GRE score at the time that you submit an application for admission to Brooklyn Law School, but that no admission decision can be made until we have received one.
Candidates should be aware that the rolling nature of our admissions process means that it is in their best interest to complete and submit all required application materials as soon as possible.
No deadline - Regular J.D. Admissions
Applications are reviewed as they become complete. Candidates are advised to consider the several weeks it will take for the CAS to process their Law School Report and other documents and incorporate this into the application timeline. There is no regular review deadline, but applications completed by February 1 are given first consideration. Applicants who take the LSAT administered in June may still be eligible for fall admission.
December 1 — Academic Excellence Early Decision Program
Applicants for whom Brooklyn Law School is their first choice may choose to apply through our binding Academic Excellence Early Decision Program. This is a highly competitive and binding early admissions decision program. Early Decision applicants must submit their applications with all required materials by December 1 and must take the LSAT exam no later than the November administration or submit a valid GRE score by December 1.
April 1 — Summer Start Registration Deadline
Incoming students in the four-year program have the option to launch their legal education a semester early by taking one first-year class, Criminal Law, in the summer semester. We believe this option will facilitate the transition into law school and allow more curricular flexibility in your upperclass years as you will have already completed 4 more required credits toward completion of your J.D. program.
The semester typically begins at the end of May/beginning of July and exams run through the end of July. Admitted students who would like more information about this option should contact their Admissions Counselor, call the Admissions Office at (718) 780-7906, or send an email to admitted@brooklaw.edu.
April 21 — Edward V. Sparer Public Interest Law Fellowship
Incoming students may apply for the Edward V. Sparer Public Interest Law Fellowship. Your fellowship application, complete with all credentials, must be received by April 21, even if you have not yet heard from the Admissions Committee regarding the status of your admission application. Review of fellowship applications begins after the April 21 deadline, and decisions are announced soon thereafter to candidates that have been accepted for admission to the Law School. Therefore, early filing of your application for admission is strongly encouraged.
April 15 — Admitted Student Seat Deposit
Admitted students who wish to confirm acceptance at Brooklyn Law School are required to pay an initial seat deposit of $300, as well as a nonrefundable matriculation fee of $25. The seat deposit, which reserves a place in the entering class, will be applied against tuition for the first term if the admitted student matriculates.
If an admitted student makes an initial seat deposit prior to April 15, and subsequently notifies the Office of Admissions that he or she will not be attending Brooklyn Law School, the student is entitled to a full refund of the $300 seat deposit, provided that written notification of withdrawal is postmarked, faxed, e-mailed, or hand-delivered by April 15. In the event that a withdrawal of admission occurs after April 15, the $300 seat deposit is partially refundable, in accordance with the following schedule:
Date of Withdrawal
Refund

---

April 16 – April 29
$ 150

---

April 30 – May 13
$ 100

---

May 14 – May 27
$ 50

---

After May 27
No Refund
June 1 — Admitted Student Tuition Down Payment
Admitted students who wish to maintain a place in Brooklyn Law School's next entering class are required to pay a tuition down payment of $600. The tuition down payment, together with the previously paid seat deposit and matriculation fee, will be credited toward tuition and fee charges for the first term if the admitted student matriculates.
If an admitted student pays the $600 tuition down payment prior to June 1, and subsequently notifies the Office of Admissions that he or she will not be attending Brooklyn Law School, the student is entitled to a full refund of the $600, provided that written notification of withdrawal is postmarked, faxed, e-mailed, or hand-delivered by June 1. In the event that a withdrawal of admission occurs after June 1, the $600 tuition down payment is partially refundable, in accordance with the following schedule:
Date of Withdrawal
Refund

---

June 2 – June 10
$ 525

---

June 11 – June 19
$ 450

---

June 20 – June 28
$ 375

---

June 29 – July 7
$ 300

---

July 8 – July 15
$ 225

---

July 16 – July 23
$ 150

---

July 24 – July 31
$ 75

---

After July 31
No Refund
Helpful Guidelines
The following are helpful guidelines to assist you in the application process.
Credential Assembly Service (CAS)
Each applicant must register with the LSAC Credential Assembly Service (CAS) by using the online registration service at www.LSAC.org. You are urged to do so by January 1 of the year you plan to enter law school. Early Decision applicants will need to do so during the fall.
Your subscription is valid for a 5-year period beginning on the date LSAC processes your CAS registration. If you are not a current subscriber, LSAC will not produce CAS Reports for you. You will need to re-register with CAS but will not need to retake the LSAT if you have a reportable score earned within the past five years of the year for which you are applying.
The Credential Assembly Service receives undergraduate and graduate school transcripts sent by college registrars pursuant to a request by the applicant and converts the undergraduate transcripts into a standardized academic summary that is reported to Brooklyn Law School. It is the responsibility of the applicant to make certain that a transcript from each college or university attended is sent to the Credential Assembly Service. The Credential Assembly Service report also includes biographic information; copies of all undergraduate, graduate, and law/professional school transcripts; LSAT scores and writing sample copies; and copies of letters of recommendation processed by LSAC.
Questions about the Credential Assembly Service should be directed to LSAC.
LSAT & GRE Testing
All applicants are required to take the Law School Admission Test (LSAT) or the Graduate Record Examinations (GRE). If an applicant would like to submit an LSAT score, it is strongly recommended that the LSAT be taken by the January test date for purposes of admission the following fall. However, Brooklyn Law School will consider for admission in the fall those candidates who sit for the March and June LSAT, in accordance with the cautionary information provided above.
If an applicant would like to submit a GRE score, the score must be valid and received by the deadline of the program for which the applicant is applying. The Admissions Committee has no preference between the LSAT or the GRE and will accept either test score.
Letters of Recommendation
All entering J.D. applicants are required to submit at least two (2) faculty letters of recommendation or evaluations. These should be submitted by faculty members who can provide detailed comments about your academic abilities.
While an additional letter of recommendation may be submitted, please only do so when the additional recommendation will provide a different insight or perspective into your academic abilities. While transfer applicants must provide letters of recommendation, it is encouraged, but not required, that such letters are written by law school faculty. Visiting students need not provide letters of recommendation.
If you have graduated and been out of school for several years or more, you can ask an employer or other individual who knows your intellectual abilities to provide one of these letters. Please bear in mind, however, that we are primarily interested in an evaluator's judgment about your potential for academic success in law school. In such cases, Brooklyn Law School expects candidates to recognize how valuable such references are to the Admissions Committee in its assessment of the intellectual contribution a candidate will make in the classroom. We, therefore, expect someone in this situation to exercise good judgment in determining who is best qualified to write these required letters.
The Law School strongly suggests that candidates submit letters through the CAS Letter of Recommendation Service, already included in the Credential Assembly Service registration fee, as this will speed the processing of your application.
Alternatively, such letters may be submitted by the applicant, or they may be forwarded separately by the persons requested to write the letters, directly to our Office of Admissions. In such cases, candidates should utilize the Brooklyn Law School Faculty Recommendation Form, unless these letters are sent by the undergraduate school's own credential services office and are accompanied by a waiver form. Do not submit duplicate letters.
Dean's Certification
If you answered "yes" to questions 1, 2, or 3 in the Character and Fitness section, you are required to submit a Dean's Certification Form. It is not intended as a letter of recommendation, but is an assurance of good conduct and a confirmation that there were no disciplinary actions against you while at the college. Simply send the form to the office which handles your transcripts and other official credentials and ask them to complete and return the form to our Admissions Office.
Character & Fitness
Applicants who intend to practice law should be aware that admission to the bar in all states involves an assessment of one's character, fitness and other qualifications. Applicants are cautioned to give full and accurate answers to each of the questions asked on the application (even if that answer is "none" or "not applicable") as well as those provided in any supporting documents.
At the time that you apply for admission to the bar, a copy of your law school admission application and supplementary materials will be forwarded to the State Committee on Character and Fitness. You will be held accountable for any inconsistencies and non-disclosures. Candidates are urged to consult with an official of the bar as necessary to determine whether any past conduct could keep them from being admitted to the bar in that jurisdiction upon graduation from law school. In New York State (www.nybarexam.org), such inquiries may only be made after one has gained admission to a law school.
Admission Interview
The number of applicants to Brooklyn Law School prevents us from scheduling evaluative interviews. We welcome prospective students to visit us throughout the cycle where they can interact with current students and admissions staff. Please note that conversations with an admissions staff will be informational only. In certain circumstances, the Admissions Committee may invite a candidate for an interview, however applicants may not request to be interviewed by the Committee.
Pre-Registration for Bar Exam
In many states, the Board of Bar Examiners requires registration before beginning the study of law. Applicants are encouraged to determine the requirements in the state(s) in which they intend to practice. Consult the National Conference of Bar Examiners, www.ncbex.org, for additional information.
International Student Questionnaire
Applicants who are neither citizens nor permanent residents of the United States at the time of their application to Brooklyn Law School must also complete an International Student Questionnaire. Please note that the application for admission will be considered incomplete, and no action will be taken, without the receipt of a properly executed Questionnaire.
This form is available on our Web site here. The Law School will not approve the admission of non-U.S. citizens who are unable to demonstrate their financial ability to cover the costs of attendance for a year of law school including tuition and fees, books, and living expenses. Please consult our most recent calculation of anticipated first-year expenses.
Accordingly, candidates are urged to consider carefully the information they provide in the financial disclosure portion of the questionnaire. When the form is completed, it may be sent directly to the Admissions Office at Brooklyn Law School by mail, scan and e-mail, or by fax. Bank documents and/or tax returns are not required at this stage of our process.
International Credentials
Applicants with international academic credentials must follow the regular admission procedures described for entering first-year students, including submission of the Law School's admission application, LSAT or GRE score, and faculty letters of recommendation.
Brooklyn Law School requires that your foreign transcripts be submitted through the LSAC Credential Assembly Service (CAS). If you completed any post-secondary schooling outside the US (including its territories) or Canada, you must use this service for the evaluation of your foreign transcripts. The service is included in the Credential Assembly Service registration fee.
The one exception to this requirement is if you completed the foreign schooling through a study-abroad, consortium, or exchange program sponsored by a US or Canadian institution, and the work is clearly indicated as such on the home campus transcript.
An authentication and evaluation of these documents will be completed by the American Association of Collegiate Registrars and Admissions Officers (AACRAO), and will be incorporated into your CAS report. To use the authentication and evaluation service, log in to your online account and follow the instructions for registering for CAS. Be sure to request that the appropriate documents from each institution be sent directly to CAS.
Please note that more time is usually required to receive foreign transcripts.
Reapplication
If a prior applicant wishes to reapply to the Law School, he or she may request that the file be reactivated. Nevertheless, a new application form must be filed. We will require a newly issued Credential Assembly Service Law School Report. We will not accept a copy of a previous report, nor will we utilize the one in your prior application file. While it is not necessary to submit a new Personal Statement or copies of the same letters of recommendation already in the prior file, you are asked to update your file with any new relevant information, including a current résumé and/or new letters of recommendation.
Readmission After Prior BLS Enrollment
If you previously attended Brooklyn Law School and withdrew before completing your degree, you may apply for re-admission either de novo (i.e., as a new first-year student) or as a returning student (i.e., with advanced standing).
You must submit a new application form and provide a newly-issued LSDAS Report. While your previously submitted personal statement and letters of evaluation are available to us, you may find it helpful to submit a new personal statement and/or more recent letters. In any case, you are required to provide:
Statement as to why you seek to return
A clear and complete description of your activities since leaving Brooklyn Law School
An updated resume
Any other new information that may be relevant in assessing your qualifications
In some instances, you may be required to take the Law School Admission Test again.